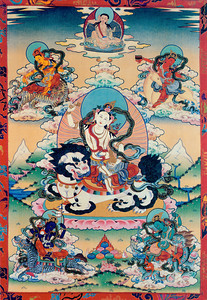 An excerpt from a teaching by Jetsunma Ahkon Lhamo from the Dakini Workshop
On a more superficial level, let us describe the method of dakini activity, and how it actually can appear in the world. Well, you cannot do that in one afternoon. You cannot do that in one lifetime. There are as many different ways that the Buddha nature can dance or move or generate activity as there are ways to be infinite. It cannot be described. Yet for our purposes, we can make some useful points about the method of Dakini activity.
First of all, anything having to do with the appearance of the Buddha's activity in the world, that is to say, enlightened activity or compassionate activity should be understood as being inseparable from the dakini nature and should be understood as being dakini activity. It should be understood that the movement or dance or display of the Buddha's activity is always pure, not because of the phenomena that one sees, but because of the purity of the Buddha nature. We like to evaluate phenomena that we see and that is where we run into trouble. That is the mistake. That is the cosmic mistake. You cannot know the nature by evaluating phenomena as you see it, because you are seeing your own confusion, period.
When you see the display of the Buddha's activity in the world, that which brings you closer to enlightenment, that which propagates the Dharma, that which contributes compassion to the world in some form or another that should be understood as pure activity. You should see the purity. The purity is judged by understanding that the source of that activity is, and always has been and always will be, the enlightened nature.
That activity which is consistent with the nature of the dakini should be understood to be effortless in this way. Typically and characteristically it is not born of the struggle to confirm self-nature. It is born of spacious non-specific luminosity, the very nature of emptiness and having been born from that, all that appears as effortless and consistent with that nature, will eventually have the result of that nature.
While we have the habit of looking at an event midstream and seeing the middle of the picture, not the beginning, not the end, but the middle, we see certain things as if through a peephole. What appears to us is a very small picture and we do not understand the whole picture. But if we could see that activity having its beginning, having its middle and having its end, we could see that activity in its completeness and then we would understand that it will always result in enlightenment, even while in the beginning there may be friction and in the middle there may be struggle, it will always result in enlightenment. This is because the seed is the same as the fruit, always. If the activity is born of the sphere of truth and is inseparable from the sphere of truth, if it is consistent with the Buddha nature, if it is the enlightened activity of the Buddha nature, it will always result in the Buddha nature. That is always the case and that is the basis of devotion and faith.
Again, it is not based on what you see. It is based on the purity of the Buddha nature. Think about when the Buddha taught. The Buddha had no great teachers, really, that taught him on a physical level. He had achieved a very great level of awareness through his previous compassionate and virtuous acts. At the time of being the Buddha, he was able through his great effort to sit down and achieve realization. But once he began to teach, he taught effortlessly. It is said that people who spoke very different languages could sit down in front of him and they would hear the teaching in their own language. It is also said that he would be able to teach any student on his/her own level. He would be able to reach out and touch them exactly where they had a place to be touched. He would be able to give to some students a teaching that to another student would seem superficial, but for that student, was the key to enlightenment. And he could give to another student a teaching that would seem so profound to that student as to kick them into enlightenment very quickly, but to another student who might hear that teaching, if they were to hear that teaching in the same way, it would be blah, blah, blah. Nothing. Useless to them, like banana peels. You have to throw it out. No good. But the Buddha did not teach in that way. The Buddha taught each person the nature of their own mind by showing them their poison, by ripening in their mind their potential for enlightenment, by shoving down their throat their own garbage, by giving them teaching that touched them in their language.
Now, if we were to do that, we would have to go to school to learn many different languages and learn all the different levels of the Buddha's teaching in order to be able to do that. And then we would have to have some kind of computer to be able to shoot this teaching to this one and that teaching to that one. We would have to be thinking about this all the time so that we could get it right. Not so with the mind of enlightenment. The mind of enlightenment can appear in whatever way necessary in order to teach and can speak to that person in the language that that person requires in an effortless way, completely effortlessly.
Of course, we have no real understanding of that, because of our confusion and our delusion. We still continue to cling and to see what floats on the surface of our mind, like shit. We see shit. Yet, the method that is employed with enlightened activity is a method that will lead to enlightenment in an effortless way. It is typical of the activity of the dakini to hit where it hurts, to get you where you live, to create for you a method by which you can try to run, but the road in front of you is turned around so that you can only run in a circle right back and it is as tricky and convoluted and sneaky as your own mind. It will rub your face in your shit. It will make you eat your own poison. But eventually, with faith and devotion, you will come out of it enlightened.
Copyright © Jetsunma Ahkon Lhamo. All rights reserved