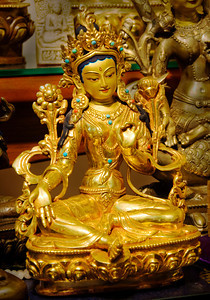 How do you cultivate compassion? The first step is to open your eyes and look at the nature of suffering. In our culture, we keep ourselves removed from this. The deformed, severely handicapped, or terminally ill are often hidden from view.
There are countries where this is not so. During my trip to India, I was shocked by the poverty, the leprosy, the filth. Every time my cab stopped, someone with stubs where arms had been would stick one in the window. I started to give out all the money I had with me. Soon the driver pulled over and said, "Lady, please stop that. My cab will be mobbed. Besides, you'll lose all your money, and they'll still be sick and poor. Even if you buy each of them a meal, they'll be just as hungry tomorrow."
His words were a vivid reminder that this type of compassion, though well-meaning, is not the ultimate answer. Hunger and sickness are only two kinds of suffering. Philanthropic compassion may temporarily relieve hunger pangs, but it does not begin to address the causes.
What did the Buddha think when he saw the poor, the decrepit, and the sick? Not merely that they were suffering from poverty, old age, or sickness. With His great wisdom and compassion, He understood that all this suffering results from karma created by desire.
Where does desire come from? From the belief that self-nature is inherently real. From the compulsive tendency of the self to perpetuate itself and to see others as separate and real. This begins a process of attraction and repulsion, action and reaction. A sentient being's every thought is built around attraction and repulsion. Desire becomes stronger and stronger, reinforcing the belief in "self" and "other" as separate—and in all phenomena as inherently real. From this, karma arises. The process continues for eons and eons of cyclic existence.
Have you ever suffered from loneliness or depression? Have you experienced violence or poverty? A pro-longed illness? The heartbreak of divorce? Have you seen deliberately deformed children? Lepers? Have you visited a slaughterhouse? According to the Buddha, there are states, or realms, in which beings suffer much more horribly.
The forms we take in these realms result from the qualities of our minds. If we are filled with hatred or anger, we are born in a hell realm. How can this happen? It is not difficult to understand. When you are filled with hate, are you not in your own private hell? We have all gone through periods of intense anger or hatred in which we found excuses to get more angry. Each of us has had moments in such private hells. If your mind is capable of producing a nightmare, rebirth in a hell realm is a possibility.
There also exists a state or realm populated by what the Buddha called "hungry ghosts." Have you ever gone through a period of feeling terribly needy? You needed love, approval, or nourishment so badly that you were in a state of constant, restless despair. Yet when people reached out to you, they were unable to get through. It is the hungry ghost realm in which similar needy states of mind congregate.
According to the Buddha, when beings die, they experience the intermediate state between incarnations and are then reborn in a form appropriate to the qualities or the karma of their minds. If they had a great deal of hatred, that hatred will clearly manifest itself and influence their next rebirth. If they were greedy, that greed will influence their rebirth. If they had the karma of ignorance, that ignorance will determine their rebirth.
Even if you had every good intention and all the material means by which to support beings throughout their lives, you could not do anything about the process of rebirth. You cannot change what is inevitable. You cannot influence future lives because you cannot permanently change minds and hearts. Thus continues the cycle of suffering. And that is why we embrace, with all our hearts, a pure path to bring about the ultimate end of suffering.