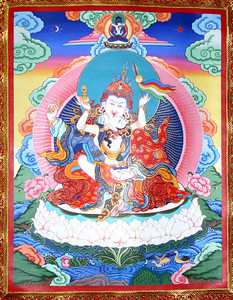 An excerpt from a teaching by Jetsunma Ahkon Lhamo called Coming Alive
I want to share about the experience I had going to Tso Pema in India and meditating in Mandarava's Cave. I just knew by being there that it was where Mandarava prayed and offered herself for the liberation and salvation of all sentient beings again and again and again. That is where she cried and tore out her hair and meditated on the suffering of sentient beings and could hardly bear it. She went through it in that cave. That cave was her spiritual incubator. Oh man, the way she prayed! I wish today I could pray the way Mandarava prayed then, and I will continue to try for that.
When I planned my trip to India I had specific goals to connect with the root of my power. Now periodically I'm supposed to go back to my mother monastery, connect with my root guru and get additional training and refreshment, but I decided not to do it in the traditional way. I felt like I had to birth something new. I felt like I had to connect with this power that I know is there, at the root. In this lifetime, because the Dharma is being taught in a foreign land where things are completely different, I sometimes feel like a stranger in a strange land. The conditions of ordinary samsaric modern reality are just a little confusing sometimes, and one can lose sight of the root of one's power.
I went to India thinking I was going to connect with this power, give rise to myself in some way, and I was not going to give up until it happened! I swear I had this idea I was going to sit on a rock somewhere and just freeze to death. I knew that something needed to happen. I felt that I was starving, and that I needed nourishment. So I spent only two weeks at the mother monastery–even though my precious root teacher was there and even though his kindness and the nourishment that he lavished upon me was inconceivable. I felt that I needed to go someplace where I was in charge, where I was responsible, where I knew what was going on, and where I had only myself to answer. I knew what I needed to reach for.
I wanted to go to the holy places of Mandarava and Guru Rinpoche. I wanted to reach for what had happened at that time. When Mandarava and Guru Rinpoche practiced, they literally changed the world. Of course, that isn't reported now. We only hear Western white man's history and story. But, in truth, Mandarava and Guru Rinpoche changed the spiritual world, as we know it, because in their practice they gave rise to the empowerment of immortal spiritual life, and they accomplished the deathless wisdom state. They never died. When they left the world in that lifetime, they rose up to the sky and disappeared. Hundreds of people saw it.
It was preordained that Guru Rinpoche would accomplish the siddhi of immortal life, and it was with Mandarava that he did it. At the time of their accomplishment, Amitayus Buddha, the Buddha of Long Life, came to them and recognized Guru Rinpoche as Amitayus Buddha and Mandarava as his consort. So their empowerment was complete because they became the deities in union. This revolutionized spiritual practice, as we know it, because now there are options for one's spiritual practice. If one practices deeply enough and heroically enough- not just casually–one can prolong one's life and even realize immortal spiritual life or the deathless state. One can accomplish that.
I was going to go to Tso Pema, recognized as an incarnation of Mandarava. I trusted and believed it because it came from my root guru, who is my heart and my mind; yet I needed to feel it myself. I needed to touch it. I wanted to smell it. I wanted to own it. My intention, when I went into that cave, was to feel that "this is happening now." I had that sense of wonder and strong determination that you get when you are faced with the option of a miracle. When you know that, you are a different person.
I went into that cave with determination like I've never had before, and I sat down and I got everything that I asked for. The consciousness of Mandarava came to me. I realized it was indistinguishable from my own. I realized many facts and qualities about Mandarava. I realized much about her practice with Guru Rinpoche. My current mindstream and the mindstream of Mandarava began to blend, and I had such a powerful life-changing and potent experience at that time that my astrological horoscope changed. It was a spiritual rebirth.
We are talking about, not only a life-changing experience, but also a change in one's method, one's purpose, one's sense of accomplishment, one's sense of self, one's orientation. Little by little, in the same way that a child grows, this new empowerment is growing. It is realized. It is present. It is alive in the world. It is reincarnated. To me, that empowerment was stronger, more profound and more fruitful than any of the traditional empowerments that I've had.
Is that because traditional teachings and the way they are conferred are inferior to what happened in the cave? Of course not! That would be like saying that one side of the Sweat Lodge is more powerful than the other. That would be ridiculous. Here's the bottom line. Once you get to the fat cat stage, you're dead. No matter what you're doing spiritually–if you're keeping your samaya, if you're practicing eight hours a day, if you're dusting the temple, if you're cleaning out the bowls and making offerings–if you've gotten to the fat cat stage where you think you're in charge or you own the business or you've seen it all, you've lost your practice. It's gone. You're practicing by rote. I have a cockatoo that can be trained to do the same thing.
Practicing by rote is so superficial that we hardly realize that we have gone spiritually dead inside. We are afraid to ask ourselves the question, "What is my practice? When I put on my robes or when I pick up my mala and I open my books, do I do so in the same way that I sit down to a bowl of cornflakes in the morning?" I use this example because you have to eat something before you leave the house, and cornflakes are soggy. Do you feel soggy when you do your practice? Soggy is a pretty good word for it, wouldn't you say? When you sit down, is it like sitting down to an exquisitely prepared meal for the first time and you're really hungry. What is your experience when you practice? Do you practice with childlike delight, with fervent regard, with an awareness that's on the front burner–that all sentient beings are suffering, that they do not understand the causes of this suffering nor how to stop them, but that there is an end to suffering and there is a method.
When you hear this beautiful news and marvel, that delight and the hunger provided by that delight is what makes your path work. The period of turning your mind towards Dharma should never end. In fact, the older and more fat cat you get, the more you must give rise to it continuously, reminding yourself of these fundamental truths and delighting in this information. Take nothing for granted while you are on the spiritual path, because the moment you do—whether it is your practice, the result, your community, your environment, your teacher, or even the fact that you have leisure to practice–you are no longer practicing. The academic who hears all this information, memorizes it and learns how to practice very well with all the bells and whistles and ritual implements may not be even close to the practitioner who goes around the stupa, knowing his or her life is in danger, and prays Om Mani Padme Hung in a heartfelt way. In that expectation and hope a miracle might happen. Another practitioner who is superior to the fat cat is the one who has really studied and come to the path seeing that all sentient beings are suffering and has decided that enough is enough. To this one, the suffering is unbearable. And with that heart ripped open, this practitioner circumambulates the stupa and says Om Mani Padme Hung.
© Jetsunma Ahkön Lhamo