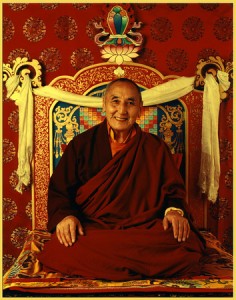 Long Life Prayer for Yangthang Rinpoche
Kunzang Jigmed Dechen Ödsal Dorje
OM SWASTI
NGA GYUR KÜN ZANG THUG KYI TEN PA'I SÖL
Upholder of the early translation Heart-doctrine of Kuntuzangpo
JIG MED THUG KYED TOB KYI DZIN PA LA
By the strength of your fearless intention
DE WA CHEN PO PEME CHIN LAB PA
And the great bliss of Padmasambhava's blessing,
ÖD SAL DORJE KAL GYAR TSO ZHE SÖL
May the Vajra of Clear Light Live for a hundred aeons.
By request, this was written by Gyurmed Thegchog Tenp'i Gyaltshen, His Holiness Dilgo Khyentse Rinpoche
H.E. Venerable Yangthang Tulku Rinpoche is a highly revered Guru in the Nyingma School. He is known to be the embodiment of Vimalamitra, a Dzogchen Master regarded as the chief propagator of Buddhism in Sikkim. Rinpoche has successfully retrieved many Terma Buddhist scriptures which were secretly concealed by Guru Padmasambhava.  H.E. Ven. Yangthang Rinpoche was born in the Yangthang family in Sikkim in 1923. Rinpoche was recognized as the reincarnation of Terton Dorje Dechen Lingpa.
In November 1990, Ven. Yangthang Tulku came to KPC and bestowed the complete Ratna LIngpa cycle of revelations, along with the Nyingtik Yabshi. He was accompanied by Ven. Gyatrul Rinpoche.
It is not too late to register for his upcoming visit to KPC on April 23rd – don't miss this rare and precious opportunity!