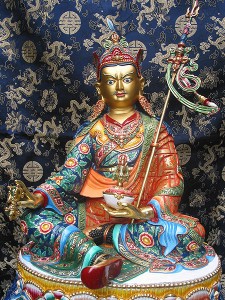 The following is an excerpt from a teaching by Jetsunma Ahkon Lhamo called "The Guru Is Your Diamond"
When the student accepts the teacher, they must honor that vow and they must make a similar vow in their own way. That vow is contained in The Seven Line Prayer. "Following you, I will practice." Even though the prayer is directly to Guru Rinpoche, the prayer has an inner, outer and secret level of meaning. We recite it thinking of Guru Rinpoche on a lotus having the intention, hopefully, to understand that even though this appears as Guru Rinpoche on the lotus, it is inseparable from our own Root Gurus, same Nature, same taste, same essence, same uncontrived primordial essence. And so, every time we recite the prayer to Guru Rinpoche, The Seven Line Prayer, we reconfirm that entire process—recognizing that Guru Rinpoche was the one that came from Orgyen, that he was born on a lotus in an extraordinary way. This is like our saying, "I understand that this is not ordinary. I understand that this did not happen as ordinary births, as ordinary conditions, happen. And so having understood, I also promise to follow and to practice." And then we ask for the Guru's blessing, Guru Pedma Siddhi Hung. Guru Pedma, grant me your blessings.
There is so much condensed into the power of that little prayer that I make you say again and again and again. There's so much. One can go so deeply with just that one prayer. One can move through the stages of recognition to a depth that we didn't think we could ever reach. One can create that connection by reciting again and again and again, "Following you I will Practice. Following you I will practice." And so, even though those meaningful words are simple, we can understand them more deeply and more deeply and more deeply.
"Following you I will practice." What does it even mean? Does it mean I dress like Guru Rinpoche or act like Guru Rinpoche or do I wear some of his funny earrings, or… What do I do? (I've got some funny earrings on, by the way.) That's not it. "Following you I will practice." First, we practice the way Guru Rinpoche practiced—for the sake of sentient beings. That's how Guru Rinpoche practiced. He came and was born into the world for no reason other than to benefit beings. He didn't have to come and learn; he didn't have to come and hang out. Like Lord Buddha himself. He didn't have to come and learn or hang out, and yet he came for the benefit of sentient beings.
And so that's the way in which we promise to practice. Not only throughout this prayer, or throughout this hour that I am practicing, but throughout this day, throughout this week, throughout this month, throughout this year, throughout all my lifetimes, may I follow the Buddhas and Bodhisattvas and liberate beings. We're talking here about liberating beings from suffering. This is what Guru Rinpoche did. Yes, he taught. Yes, he hid termas. Yes, he gave us the means, the method. But the intention was about liberating sentient beings. Following you, therefore, I will practice.
And so that's our commitment. We take on this tremendous commitment, this tremendous opportunity to liberate beings from the clutches and the ravages of samsara. And that means we'll live the week like that, the month like that, the year like that, the decade like that, our lives like that. And at the time of our death, we will make prayers to be reborn following Guru Rinpoche. And in our next life, we are reborn again to continue and to benefit beings.
This is the method. This is the way. This is the powerhouse. We rely on this promise, this blessing.
Copyright © Jetsunma Ahkon Norbu Lhamo All rights reserved