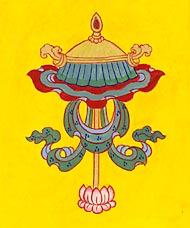 The following is from a series of tweets by Jetsunma Ahkon Lhamo:
I think many of us realize time grows short and sentient beings more lost. Our planet needs prayer and we can't afford to waste merit judging, gossiping, pointing fingers and hating. It is time for all Bodhisattvas to give rise to the very best qualities they are capable of. To go over the same obsessions, compulsions, neurosis at times like these is just egocentric and selfish, as well as unhelpful and mean spirited. Talk while bragging that one is the best Buddhist that is, the best Uber-Roshi there is, is just stupid. And to most people looks stupid.
It seems to me that the Buddha's teaching is a large enough umbrella for us all to be happy under. Kindly and lovingly. If we don't stop warring, then Buddhism will lose the reputation of being the most peaceful, loving, altruistic faith there is. We are losing that view, pure view, and who is to blame? We are. We like to sit on our bums and watch it all go down for the privilege (?) of saying, "I told ya so." That is not Buddhist, not kindness, it's not even human. Try harder, please? Not all of us are doing the work; not many are pulling their own weight. That is not fair, and not acceptable to a person truly on the path of Dharma. We need you! And there is nothing to wait for.
OM AH HUNG BENZAR GURU PEDMA SIDDHI HUNG
OM MANI PEDME HUNG
OM TARE TUTTARE TURE SOHA
Copyright © Jetsunma Ahkon Lhamo.  All rights reserved