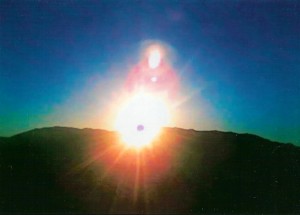 An excerpt from a teaching called Awakening from Non-Recognition by Jetsunma Ahkon Lhamo
There are so many amazing ways that you can practice. I've seen it again and again in the greatest practitioners, but only in the greatest, so we aspire to this. I think about stories I've heard about the Tibetan Bodhisattvas. For instance, during the tragedy when Tibet fell, literally 20,000 Tibetans (my teachers among them) tried to cross the Himalayas to get to India to safety, and only 20 arrived. These people endured incredible amounts of death, killing, all kinds of terrible sufferings. And then you think about great Lamas like His Holiness the Dalai Lama and my teachers who have said that instead of hating the Chinese who caused them so much loss and so much suffering, they feel almost worshipful in a sense, recognizing that the Chinese are their gurus. Now how does that happen? Are you thinking, "Well, this is maybe more than I can swallow? You know, if anybody is going to destroy me and my culture, I think I'd rather not like them, thank you very much!"
What has happened here is that these great Bodhisattvas recognize that everything is the mandala of the guru. With faith, everything is the display of the guru. So this tragic event is understood as a wrathful display that gives us the opportunity to cut off ego clinging at the root. Whatever they decided to do with this information, Tibet fell. Those things happened, so you basically have two ways to go with this. You can use this as an excuse to fall deeper and deeper into samsara with hatred and prejudice, or you can use it as a ladder to climb out of samsara through practicing renunciation and the cessation of ego clinging. It's already happened. Those are the only two choices you have! Now, if we were a good practitioner and broke a leg, we'd say, "This is truly the display of the mandala of the guru. This is the guru's blessing because now I can't hop around the way I normally do. I have to sit my butt down and pray." You can use that opportunity or you can sit that same butt down in front of the TV and watch soap operas all day long and wail and gnash your teeth about it.
In my situation I think like this. Many of you know I came from an alcoholic and abusive home. To me that is my most precious gift, my most precious empowerment. I have received until this date no more precious empowerment than that. It's not to say I want to do it over again. It was a nightmare. It was horrible. The days of suffering were endless, but I understand what I could not have understood any other way: that samsara is something to be reckoned with, that all sentient beings are suffering, that I wish to see suffering end. I don't think I could ever have understood this as well if I had not experienced what I experienced. So that has become my empowerment, and I feel that this is the guru's blessing. Hopefully, I have come to a point in my practice where I can say this without resentment. I feel that I can look to the face of my guru and say, "Thank you for this skillful means that you have offered me so that I will benefit sentient beings. Thank you for this." Without resentment I can truly say that. In the next breath I'm also likely to say, "Please let's not do this again by the way, if you don't mind." But the recognition is there. So it has become for me an empowerment.
The bottom line message of Guru Yoga isn't about subservience or about losing power or losing strength. If anything, it's about recognizing that the ball is in your court. You have and will have the experiences of samsara. What are you going to do about that? Even if you lay down and die, you still have to go through the bardo and then you do it all over again.
You have choices, but they're not the kind you'd like to have. You'd like to choose to be either here or not be here, choose to be happy or be sad, choose to have one experience or another happen to you. What you can choose is what you do with what happens to you. If you were to enter into the practice of Guru Yoga deeply and be truly empowered by that, this entire life could be an empowerment. We can transform all of the whining and moping and gnashing of teeth that we do into strength.
Often students will come to me and say, "I have this particular problem. This particular problem makes me unusual and unfit. My mind is stuck on it. So let's make a big deal about my particular problem so that we can talk about it together and then we don't have to practice. We can just have this particular problem." Well, my answer to that is great, because if you have that particular problem, when you solve that problem, you're going to have that particular strength. That's what you're going to have. This is golden. This is gravy. So we take this problem and we transform adversity into bliss, and the bliss occurs when we move into a state of recognition. We understand that we are not victims anymore. We understand that this kind of dualistic thinking is unreasonable and unwarranted and pointless, and we begin to understand "I am here. I am that. And the capacity to display this nature is something holy, a gem, a jewel that I possess."
We learn this within the context of Guru Yoga, through the friendship of our teacher, through recognizing what is not ordinary. But try to remember, if we insist on maintaining the same habitual tendency and interact with that which is holy as though it were ordinary, and are not able to make that bridge or that transformation, it's like taking a precious jewel—the most precious in the world, in all worlds, that could buy you anything that you want, a wish-fulfilling jewel—and making, as a six-year-old would make, a play pretty out of it.
It's not that one way of being would make you a bad person and the other not. It's that one is a terrible tragedy, a terrible waste, a terrible loss, and the other is empowerment. That's the difference.
As we hold in our mind the intention to awaken as the Buddha is awake, as we hold in our minds the information about the difference between what is ordinary and what is extraordinary, as we begin to move into a state of recognition through the practice of Guru Yoga, this will facilitate every happiness, every result of the path. Gradually, over time, we will prepare for the opportunity of recognition, and it will occur. This is the truth. I would not lie to you. I have no reason to lie to you. These are the Buddha's teachings. Again you have the opportunity to pit your ordinary process of conceptualization, as it arises from samsaric tendencies and samsaric means, against what the Buddha speaks, which is the truth of your own nature. This the Buddha has taught, "I will appear as your root teacher." This Guru Rinpoche has taught, again, "I will appear as your root teacher."
Perhaps this teaching will give you some beginning understanding of how to approach the practice of Guru Yoga. I hope that it is helpful to you, and I hope that it helps you to move across certain stuck places that we as practitioners find ourselves arriving at again and again. Thank you very much.
© Jetsunma Ahkon Lhamo