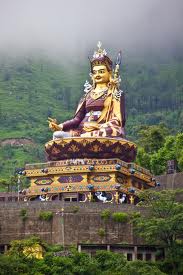 The following is an excerpt from a teaching by Jetsunma Ahkon Lhamo called "Decision Time"
JNT 14 Decision Time
How much time do we spend understanding the quality, the fabric, the substance of the Buddha's teachings so that we can make good decisions?. Have we reasoned things out for ourselves? Do we follow the Buddha's logic? If we don't follow the Buddha's logic that cause and effect arise interdependently and at the same moment, if we don't follow the logic that what we are experiencing now is our own karma, if we have not taken that teaching to heart, are we Buddhists? I wonder.
How much time do you spend mixing your mind like milk with water, mixing with the mindstream of your beloved teacher? Maybe it's not me. I'm not that impressive. How much time do you spend mixing your mindstream with the nectar of the teaching? How much time have you spent in courageous determination, paring the mind down the way one works the wood of one's craft, or the metal of one's craft? How often have we made solid and good and sensible plans for our death? How many of us have made plans and can count on the plans we've made for our next life? Isn't it funny that after all this time, we do relatively little, and some of us nothing, to add to our virtue? We don't plan for the next life. We act like people who don't believe that rebirth will occur immediately. And it will. We act like people who think there is no relationship between cause and effect. Everything we do is for satisfaction in this life and we still dance with it. We still try to control it.
How much time a day do we spend beseeching the Guru to never abandon us? And how much time each day do we spend in longing for the nectar of bodhicitta? How much time every day do we spend longing for liberation? Compare that to the time that we spend hanging out with our own minds, like a drunk in a bar, convincing himself the next one won't hurt. Opening the cans, pop another one, pop another one. Maybe this one will be the magic one. Or, maybe this one. Pop another one. Maybe this will be the one that there is no result for, a freebie. Only a true, bona fide alcoholic, or somebody who was awake enough to know that they are bona fide samsaraholics, understands the depth and depravity of the thinking that I'm describing. That kind of thinking tells me one thing and one thing only: One has not become a Buddhist. You might think you are, might wear the right clothes, but you ain't there yet, because you have made samsara your guru, because you have made fear your guru, because you have made doubt your guru, because you have made the noise in your head your guru. Because of these and many other things, we're still suffering. And we're so deluded that we still seek answers in samsara. Do you know that's the definition of insanity–to repeat the behavior again and again, achieving the same result? By this time, we should have made decisions like that. But I see you listening to your heads. I see you making up your own religion in your minds.
I mean, sure, maybe it looks like Buddhism, but it's not. Because if it were the teachings of the great Guru of Gurus, Padmasambhava, it would say to you that you are drunk, that you are mistaken, that the things that you hold onto in samsara will only betray you. The very things that you are most afraid of will come back to harm you. Guru Rinpoche would have said to you, 'Each and every one of you have the seed of Buddhahood, but without ripening that seed, it will never manifest.' Without taking the time, without taking this lifetime to hone one's skills, to develop the kind of discipline and good mind, relaxed, calm mind…. This will never happen under the conditions that we are thinking now.
Guru Rinpoche's teachings have said that we should rely on our root guru; and woe unto us if we make up something different. That's a different religion. Our root guru represents for us the very nature of our mind; not only represents, but in fact is the very door of liberation. And for most of you, if not all, that's your chance. There is one door to liberation and that's one's root guru. And if one cannot align one's heart, body, speech and mind with the milk or the nectar of the guru, then something else is going on entirely, because this is what our faith is. This is what Vajrayana is about. It is about quick liberation. Nobody said easy. Quick liberation, by virtue of the karma and the relationship between oneself and one's guru, which one cultivates. The work is hard, because our own minds want to remain drunk. We like the stimulation. We like the 30-minute stories. We like to control the endings. But that's delusional. Nobody controls the ending. No matter how healthy you are, you could die tomorrow. Or your root guru could die tomorrow.
Ego, health, control has nothing to do it. Your karma is ripening right now and that's your experience. That is your experience. It's yours. And should it happen that the path is difficult and long—difficult, takes a lot of work, makes us nuts sometimes—that's the very time that Guru Rinpoche reminds us that we are hanging by one string from falling into the depths of samsara and that string is the connection that we have with our teachers. Ignore that string or cut it at your peril. I would not want to be lost in samsara. I would not want to be unknowing of what my next rebirth will be and what I'll have to endure because I followed the wrong path.
You've been given a gift without measure that you have not even opened yet.. I would say in this lifetime you haven't earned it. And so you might think that by that, you can accept it freely and you can waste it. But I say to you, if we are together and if we speak and if we love one another, then this is the result of many, many efforts in the past. And our job is to, instead of acting like an idiot farmer who is plowing the ground for nothing, rocks and dirt —maybe I can plant a bean here, a little corn—when underneath there is a diamond field, a mine of gold… We're like poor, starving idiot farmers scraping around when the jewels are ours.
Why do you want to be beggars? You have been invited to the feast of the Buddhas. Why would you put your fear on a throne? Why would you put your confusion on a throne? And most of all, why in the world would you take your flawed, crippled ego and put it on the throne? But we do it, day in and day out. We think that somehow if we talk about Buddhism and we look Buddhist and we act Buddhist that somehow the cards will count and it will be fine. It will work out in the end. And I beg to differ. Do you know how it works out in the end? You die, and you take rebirth according to what you have accomplished in this lifetime. So what are you going to put your money on? Insanity?
Some of you, I think, are beginning to get renunciation and that means you stop making up your own bullshit, and you listen. Some of us are not so young and stupid anymore. Learning the hard way is tough, but we're good at it. The question is, though, are we learning Dharma, or are we learning to dig ourselves into samsara deeper and deeper? And that's the question.
Copyright © Jetsunma Ahkon Norbu Lhamo All rights reserved