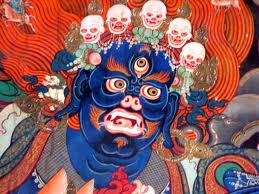 The following is an excerpt from a teaching by Jetsunma Ahkon Lhamo offered during a Phowa retreat:
This is not separate from you when you see the Buddhas in their wrathful state. Do you really think that it is separate from you, that it is unfamiliar to you, that you yourself are not like that and should run? In fact, this is an indication to you, and a display of your own nature when you become a Buddha. Intrinsic within your Buddha nature is the capacity to liberate sentient beings in a forceful and active way. This is the aspect of your nature that you will come to rely on when you have completed giving rise to the bodhicitta, and your only hope is to be able to liberate sentient beings from suffering. You will look to that part of you, that element of your nature, that is forceful and dramatic and able to dominate samsara, to suppress samsara through a wrathful display.
Again, we can't have the superficial view. We don't understand wrathful display. Maybe a wrathful display to us might be having a temper tantrum. But you must understand that we are talking about the force and power, the enlightened force and power, and potential necessary to liberate beings, particularly during this age, which is the age of kaliyuga, the age of decay and degeneration. At this time, the wrathful beings are even more powerful, even more forceful, because their display is more in line with this time. It is more necessary. This being the time of degeneration, wrathful force is needed. And so in the bardo we should not only not be afraid of the wrathful deities, but we should look to them, look for them, expect them, and rely on them with confidence, because they may be the ones who are able to break through our own ignorance. This is the aspect of our own nature. Again, it is not external, but we have to talk in that way. We say we look to them to be able to break through our ignorance. In fact, we are relying on that aspect of our own Buddha nature to stamp out the hatred, greed and ignorance in our own minds, and the degree to which the hatred, greed and ignorance are ripening. These things are what we rely on the wrathful deities for, and so they are precious to us. And even though many of us like the pictures of the peaceful deities, we like to practice the peaceful deities, we just think they're 'friendlier'; we just like them better (prettier, better outfits, friendlier), it is, in fact, the wrathful deities upon which we should rely ultimately. We will need them at some point. There is not one of us that will not rely on that very power, that very display at some point in our spiritual development, to crush the ego, to pierce the veil of delusion, to whip apart the thick covering of grasping and desire that covers us and keeps our eyes closed to our inner awareness, to the awareness of our nature. Guaranteed, there is some point in your development, whether it is during the course of your life where you will have to practice some wrathful deity in order to remove obstacles, or whether in the course of your going through the bardo, it is that very force, that very energy on which you will rely to move you into enlightenment.
That very energy can also be seen sometimes in the guise of our teachers. Sometimes our teachers, in order to break through limitations that happen within our mind, will be very firm with us, very stern with us, very very forceful. I've had that happen to me. WhenHis Holiness Penor Rinpoche came here to give the Rinchen Terdzod, he saw an obstacle to my life. There are many reasons for that, and one of them is that I am teaching Dharma from my own habit of practicing Dharma life after life. I have had very little academic training in this lifetime, and so there are obstacles that come with that. These obstacles must be purified, and they are purified through continuing to gather the merit of teaching students as I am doing, and to fulfilling the instructions of my teachers, which is to continue teaching as I am doing. And in that way the obstacles are overcome.
In another way, I rely on my spiritual mentor, just as you rely on your spiritual mentor, and he relies on his spiritual mentor. That is how we look to our own innate nature. That is how we do it when we are physical: We look to our spiritual mentor. So he came and gave a wrathful display. He was extremely wrathful, and it would seem, from the ordinary samsaric point of view, unjustly so. My lama actually accused me of something that both he and I knew I would never do, and he knew that I did not do it, and I did not do it. And other people came and said, "But Rinpoche, she would never do that. She never did that," There was no proof that it was done. There was no one who told him it had been done; he just picked it up somewhere. Manufactured it. Just pulled it out. So he threw this at me, and all I could do, as a good student, was to just take it, and try to understand how I could improve myself. There was no way to defend myself, because there was nothing to defend myself against. So when his wrathful display was finished, I, of course, was shaken and changed and crying and needing my spiritual mentor—his love and his guidance and his help. At that point he saw that he was finished and that the job was done, and he reached over and he touched my face, and he said, "Now, Ahkön Lhamo, that's over with. Now don't get mad." And I was like, "Mad?" I was just trying to survive this moment. "We're not mad, we're trying to live through this!" So I didn't get mad. And he said that because I didn't get mad or have any judgment or anything like that, and because I understood what he was trying to do, then those obstacles to my life could be erased. And I remember that after he did that I felt ten or twenty years younger. I felt wonderful, really good, after I understood what had happened.
That is the kind of activity that we may even see on a physical level. That is the wrathful activity of a Buddha. It is necessary to be seen in that way because the obstacles that it is meant to crush are also violent and dramatic and forceful. The force of our own karma is violent, dramatic, and forceful. And so in order to be skillful we have to use that which is equal in strength and superior in strength to all the forces of samsara. That is the nature of that kind of wrath. Therefore you should not be afraid.
Train yourself, then, to recognize the images of the wrathful deities, to recognize their nobility, their purpose, their generosity, their kindness, the love that emanates from them, in order to remain ever ready, as they do, to suppress the obstacles that sentient beings face.
Copyright © Jetsunma Ahkon Norbu Lhamo All rights reserved