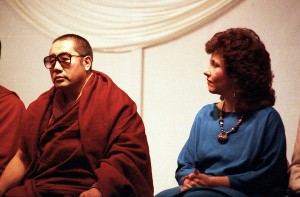 The following is an excerpt from a teaching by Jetsunma Ahkon Lhamo called "The Guru is Your Diamond"
When we meet with our guru, our guru should have the capacity to ripen one's mind, particularly where there is a close connection, where one has practiced under the guidance of this guru before. That's happened to me with many of you. I see you and I just know you instantly—and, I know, you start crying—and you know me as well. And you can't deny that. When that happens, it's just undeniable. And for those fortunate students where that happens, often they wish to even short circuit the discrimination part because the feeling is so strong, the bond is so deep, that the recognition is prevalent. If that should happen to you, here or anywhere else, that is the most precious jewel you will ever find in this world. Whether you are gathering wealth, or gathering intellectual knowledge or whatever you were taught is precious in this world, that connection with that guru is the most precious jewel you will ever find.
First, it's an indication you have practiced with this teacher before. Maybe an ordinary way of saying it would be, 'When you see this teacher, you should see the feast laid out before you.' The feast. And, you know,I have tasted this before. It's almost like, in an ordinary way, if you go to a giant smorgasbord, one of those places people go to in America when they really want to chow down, and you see the roast beef, and the this and the that and the cobbler, you know, and you go, 'Bingo, I'm in the right place!' And you eat some of that, and you remember. It's like remembering that taste in your next life. Nothing's going to keep you from chowing down. You might be even a little weird about it at first, really emotional, and so forth; but nothing is going to keep you from that taste. If you've ever had that experience, I beg you to honor it. Not for my sake, but for yours.
That happened to me in this lifetime when I met His Holiness Penor Rinpoche. It was like my heart jumped out of my chest and was standing there talking to me. And like I met my mind, my nature. Like I was following something elusive my whole life and suddenly it was standing before me. Almost unbearable. And of course I did the same exact thing that you guys do when you meet your root teacher. You start dancing. Inside you start thinking, 'What should I do? I should do this and I should do this. I'll perform in this way, or maybe that way, or maybe this way.' And of course you're a stumbling, bumbling fool for a little while, just like somebody who's newly in love.
If you find that connection, then you must honor it. And you must honor it by growing. Be ready. Some people say, 'Oh, I really want to fall in love.' But then when love hits you, you go, 'No, I don't want to change that much. A little scary here. Back off.' And so sometimes, we're like that when we meet in a sense our destiny, our unfoldment, when we meet our teacher. We go, 'Oh, oh, oh!' and we feel the feeling, we feel the joy, we feel the connection. Yet at the same hand, we're like, 'I can hardly bear it. I have to turn away a little bit. It's too much. I don't know if I can change that fast.' But remember, the original reason for making the connection to the Path was to exit samsara, and that requires a good deal of change. So the relationship between oneself and one's guru should be potent. It's ok if it's a little scary. Gives you a little respect. In Palyul, my teacher, His Holiness Penor Rinpoche—you all know him—is known as having rather wrathful moments. I've met with a couple of them, and I still flinch. But that's ok, 'cause it gets my attention.
Ultimately, we come to understand that there is no friend like one's guru, nobody in one's life. Nobody in our lives—even if they take care of you and feed you and clothe you until the time of your death—is so willing and so eager to look out for your welfare. Our root gurus are more interested in our well-being than we can understand. I personally can tell you that I had a difficult time with that. I was an American. I mean, I know that I had all this old karma with the Path and I was recognized as this one and that one and the other one and all that, but I was still a 38-year-old American. (Yes, I was 38 when I met His Holiness.) So I was an old dog with old habits. And I have to tell you that I didn't understand that kind of love at first. I mean I understood that I felt this commitment to my students even though I had not met with the Buddhist teachers yet. I already had students and I understood the commitment to them. My teacher told me that apparently I was teaching Buddhadharma and I didn't know it because I hadn't read any books on it. But then, when I actually met him, and he became so intimately involved in my body, speech and mind, my whole life began to circumambulate my guru. I thought, 'What is this? I mean, I've never seen love like this. I've never seen anything like this.' That this Lama would come all the way across the world to find me? That he came all the way from India and the first thing he said when he hit California was, "Take me to that woman in Maryland." And so that's how it happened.
I didn't understand that every year he wanted to see me, and so I missed some years. I didn't understand how much he is invested in my well-being and the well-being of my students. I didn't understand when he built that place up in New York. Now I understand that he built it for us. Because I can teach you during the year what I have to give you, the ripening and the deepening; and then you can receive empowerment and take the next steps on the Path with His Holiness, my root teacher. And so after we established this place here, he did that. I didn't understand that, but now I do.
I've never had that kind of love in this lifetime. I don't know anyone else who has either. The kind of love that will… Let me explain to you. When His Holiness was here last year, one of his particularly devoted and very close disciples passed on, Kunzang Lama. And His Holiness just abruptly left even though he knew he wouldn't make it in time, just left. For that one man. And when he got there, the man, Kunzang, had left him a note and the note said, "Guru, wherever you are, you are with me and I am with you. Please do not grieve." Like that. Can you imagine? They were so close. They came out of Tibet together. That kind of devotion to each other.
Copyright © Jetsunma Ahkon Lhamo. All rights reserved