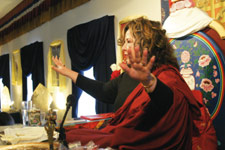 I demand the poetic! And decry the
profane-
And I never never ever want to see
The day
When the artist is forbidden to dance
and sway
And the Goddess is prevented from
having her say.
Yeah, I'm really gonna hate that day.
Really don't wanna see the day.
This may be a song or maybe a poem-
But I just can't leave this thought alone.
See I don't wanna see my people sick
and fearful
Only makes our suffering so tearful. Hard
to heal
Hard to be the Hero. Being here with you
Is all I have.
See, I don't wanna leave, don't wanna let
you down.
Here's the church and here's the steeple
Inside and all around stand my people
This is no lie and it's not just ego-
They're mine to love, and mine to live
for!
So here I'll stay.
Maybe there will come a day when
All the people learn to pray and
We will turn our minds to Truth and Light
No one will ever doubt what's right. No
never again.
And we can trust both enemies and.
friends.
Hallelujah and Amen.
Sent via BlackBerry by AT&T