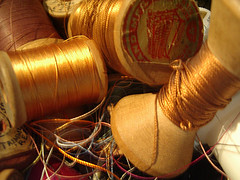 The following is an excerpt from a teaching by Jetsunma Ahkon Lhamo offered during a Phowa retreat:
Now you have to examine yourself, and you have to ask yourself: What are your habit patterns? If it has been your habit that you have not finished tasks, then you have to train yourself in a way that you have never trained yourself before. If it has been your habit that you have thought of yourself as inept, incompetent, not worthy, and a failure, and you think that probably you will begin this but you will not be able to finish it, you will not be able to succeed at it… You have the idea that you're not going to go all the way with it, and you could feel yourself slip-sliding away… You could feel yourself kind of going in a direction that you mentally have the habit of going in, but one that is not productive to you and will absolutely lead to the end of this situation that you find yourself in. Then, of course, you will have to train yourself in a way that you have never trained yourself before. And the reason why is that, first of all, you must understand this: You can. That's the first reason to do it. Because you have the habit pattern, that does not excuse you from changing the habit or from learning how to apply the antidote. Because things have been this way up until this time does not mean that you have no aptitude for training yourself with method. Through using method and through relying on the method and relying on the help from your spiritual friend or teacher, there's no reason you cannot do that, even if you have never done that before.
Here's why. When we deal with our own lives and our own self opinions, our own ideas about ourselves, our own habitual tendencies, our own ways that we function, and particularly our own ways in which we think about and perceive ourselves, there's a certain degree of flexibility. There is very little about life that will come up and slap you in the head in such a way as to tell you exactly what you are doing wrong. Life will slap you in the head, no doubt about that, but it may happen ten years after you're making the mistake that you're making now. It could happen in the next life. You may never have the opportunity to make the connection as to what you did wrong, what happened, where you fell short, and why things didn't pan out.
So life isn't really a good teacher. We like to say that we learn from life. Life confuses us more than anything else. We don't learn from life because many of the causes that we begin within our own lifespan in this lifetime won't even ripen in this lifetime. When they do, consider yourself fortunate. If you conduct yourself in a way that is inappropriate—unkind, lacking in generosity, self-absorbed, hateful, or whatever—and you see the ripening of it within a short enough time to where you can recognize the connection, that is Guru Rinpoche's blessing; and you should consider it Guru Rinpoche's blessing. Really, you should immediately drop to your knees and do some prostrations, because that is luck. That is a blessing. But what usually happens is that the result of what we have done becomes hidden by years, and by all of the flip-flop, inside-out movements that we make during the course of our lives. There are so many options, so many ways that we can go, that we literally don't have the kind of mind that can follow the threads through. See what I'm saying? We don't have the kind of mind that can pull the thread and follow it from beginning to end, coupled by the fact that we have the additional problem that relatively, proportionately, very little of our non-virtuous causes will ripen during the course of this lifetime. Most of them will ripen in the bardo state after death, or in the next life, or the life after that. There are no guarantees. So it's very difficult to learn.
Copyright © Jetsunma Ahkon Norbu Lhamo All rights reserved