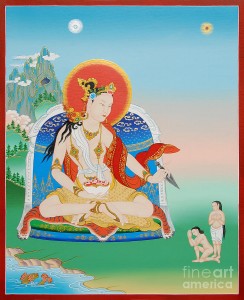 The following is an excerpt from a teaching by Jetsunma Ahkon Lhamo called "Experiencing the Hook of Compassion"
That hook doesn't happen because the teacher is manipulative. The hook happens because you have seen your face; and the karma in your mind is such that you have responded in a way that you never could have predicted. The student might be very conventional, not ever been religious before in their life. The student might be very unconventional, and never thought that they would deal with a conventional religion, like Buddhism. And they might be really ticked off about it. They just didn't want any of these things to happen. And suddenly… Hooked! And the student can sometimes respond with anger, literally. Sometimes the student can feel that they're too young to die. How did this happen? Suddenly I'm surrendering, and I didn't want to surrender. I wanted to have more fun; I wanted to rock and roll. I wanted to continue to be a free agent, you know. I wanted to be footloose and fancy free. Let me go where I want to go, and do what I want to do. Don't chain me down. Oh yeah. And they're singing all these songs.
Suddenly they've got lead feet. They can't move, and they just can't go. They're incapable of movement. What are they going to do? And they grieve. They start to grieve. They grieve like someone died. And sometimes the students have to go through a period of time where they must be permitted to grieve. You can't rush them. They have to grieve. Something died. Yes, something died. The part of their life where they were not hooked just died. And they can hear that velcro, you know. It can be a really uncomfortable position to be in. And sometimes they feel all kinds of different responses that are just unbelievable. I mean it's just unbelievable to watch some of the responses the students have when they first meet their root guru and feel that feeling, that response. It's just amazing. Sometimes the student will wonder what kind of demon they have turned into. 'I used to think I was a good spiritual person and suddenly I'm acting like a complete turkey.' And it often happens because the student has simply met their guru and they are responding to this feeling that they have never known before in their lives in a very human way.
But the teacher continues in what seems to the student like a relentless way, to send out this call, this call, this call. You can't resist something that is like your mind. And the teacher is set up, due to their compassionate intention, karmically set up, really without any choice, to sound like and to respond to the student's mind. The teacher will be like them vibrationally; sometimes like them situationally. Sometimes the student can look at the teacher and see themselves quite clearly. Sometimes they can simply hear the words, and it's so much like the way they are. So funny. So strange. And really all you're seeing when you see that is you're seeing compassion. That's all that is to be understood. You should never think that you're understanding the teacher by determining how much the teacher is like you. All you're understanding is yourself.
The teacher is only acting from the point of view of compassion. That is if it's a qualified and realized teacher. If it is someone who, you know, is considered to be a bodhisattva or an incarnation, a tulku, then what you're seeing really is the display of compassion and what you're seeing is your own face. If anger comes up, that's your face too. That's what you're seeing. If resentment comes up, that's what you're seeing too. Sometimes resentment comes up, and that's the hardest one, because the student will think they're kind of spiritual, you know. They almost think of themselves as kind of a little guru, you know. Like a junior guru. You know, 'I have some answers, and I've got some methods, and yes, I have some worldly wisdom here, and I'm sort of slick in my own way. And I'm king or queen of my little mountain.' Of course my mountain is very, very small. But suddenly I move into a bigger place, and there's another king or queen. And there's a guru that is, you have to face it, far superior. And so you look at that and you feel kind of resentful, because you've been dethroned! That's painful! That can be really painful, and first what might come up is a kind of resentment. A resentment also that the different kind of situations that you've engaged in during your life were not the holy, high, far-flung things that you thought they were. And it took this superior teacher to show you that. And there might be some resentment there.
But all that is happening… Can you really understand this? Can you really hear this? All that is happening is that there is a sound that is being sounded that on some level you are capable of hearing due to the karma of your mind. What is happening is happening because of you. Not because of anyone else. This is your mind. This is your karma. This is your face that you are seeing. Your response is your own response.
Copyright © Jetsunma Ahkon Lhamo. All rights reserved