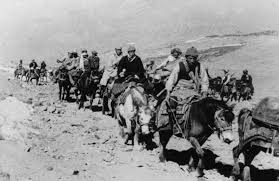 The following is an excerpt from a teaching by Jetsunma Ahkon Lhamo called "Art of Dispelling Anger"
There is no confusion regarding Dharma. It's spelled out that conduct is everything, that working with one's poisons is everything. And there are no modifications on not killing. Not killing is all pervasive. It means bugs. It means worms. It means enemies. In fact, we are the only ones that I know of who are taught to raise our enemies in loving concern higher than ourselves. Not that we do a personality cult thing, you know. We don't do the wave every time we see our enemies. It's not like that. But if our enemies are harming us, then they must be harming themselves also. So our compassion for them should be even greater. Tibetans were thrown out of their own country. They were killed; they saw their lamas abused; they saw their lamas murdered; they saw their texts being walked on by Chinese boots, their precious Dharma texts, and then many destroyed, as Palyul was destroyed. And yet because their culture is so different, rather than going to war or hating, from the Dalai Lama on down, they all say, "The Chinese are our gurus. They taught us that we must have had some fault or we wouldn't have been thrown out of Tibet, or there wouldn't have been this huge problem." That's the way Tibetans think. They think, "Oh, now maybe the problem is that we kept our faith to ourselves and we were happy just in our country, Shambala,." And so the lamas said, "Go out and teach others. This is what we must do." And now they are grateful for that happening, although of course we want Tibet back. No doubt about that. But they are grateful for what happened there, for what they learned, for what they taught. It is no less a travesty. It is no less genocide than it was when it happened, yet this speaks to the quality of our faith. This speaks to the quality of our practitioners and our lamas. And so, now that we see it, we see that, in fact, it was the Chinese that sent Buddhist lamas around the world. And so we find out there are never any exceptions.
There were powerful practitioners at that time whose blessing was so strong (and I've heard stories about this from other lamas), whose powers were so strong that they would go out when the Chinese were shooting and they would stand in front of people with their robes held out to protect them. And then they would come inside and shake the bullets out because the blessing was so strong, their power was so strong; but they never fought. They died, but they never fought. There were many lamas who knew when the Chinese were coming, and it was hopeless. They simply did phowa and left. They didn't wait. They knew the Chinese would kill them. So rather than allow the Chinese to take on that non-virtue, they did phowa. And phat! they left their bodies. What was the year when the Chinese came into Tibet? '49? I was born in '49. So that's what happened there. But there was never the thought of revenge. Never the thought of hatred or barbarism, because this is not our way. And what is great is that we can teach our children there are no exceptions. It's black and white. That's what is really great. Never kill. Each sentient being values its life just as much as you do. I really like that about our faith.
I see a problem in people who are trying to defeat their own poisons in this lifetime, even you guys whose faces and hearts I know so well. We tried this. We've given a lot to be Buddhists, on the one hand. Yet we've gained a lot more by being Buddhists, on the other hand. And we're very much involved; and each person is as committed as they can be to their path. So I know that the willingness is there. I think the caring is there, but there is so much confusion. How in the world are we supposed to defeat our poisons when it is not clear to us how we should live?
For instance, we are told in Buddhism that we must conquer hatred, greed and ignorance, and let's see, lust and competitiveness, or warlike behavior. Let's see. What else? Did I say sloth? Well, that one, too. So, we are supposed to conquer all of these things; and yet we're not even clear what hatred is. We're not even clear on that, because of how we were brought up. If we acted out ,you know, few of us had parents that would sit down and say, 'This is why this isn't working.' Most of us had a backhand or time out, or go away, or watch TV, or something like that; but there is never any clarity, because we ourselves don't understand. So when we look at abolishing hatred in our mind stream, which we must do, which we've committed to do for the sake of sentient beings, where do we even start? It's so confusing. And not only where do we start? What are the perimeters? . What does that mean, not hating? Ok. I don't hate you outright, but you know, if we mush with that a little bit and fool around and dance a little a bit, there's a lot of leeway in there according to the way ordinary people think. But, in fact, that's not true, because if you just look at the one poison, which is hatred, it's much more widespread than you think, my poor little lambs. You know, when you go ballistic sometimes, because somebody let you down or somebody was rude to you or whatever the particular thing is? That's hatred. You can say it's not because you don't hate the person, but the rage, the thing that comes out of you is the same energy, just a little tweaked to fit our culture. It's that same thing when you go off on somebody, . Or when you gossip. Like when you gossip to put another person down, you indicate that their qualities are down: They are not a good practitioner, they are not a good person, they are mean, they are mean to me, they are just bad. You have that kind of gossip, you know. Somebody looks at you cross-eyed and you're going to hold a grudge for the rest of your life. That kind of thing. And every chance you get, you're going to tell somebody how bad that person is. Or maybe you are a lightweight gossiper. You just do it with a smile on your face, 'She never practices.'
However you do it, whether you smile, or whether its grudge-oriented or whether you do it because there is nothing in your head but gossip, well, it's still hatred. Now here's where we get lost, because we think, 'I'm not hating.' But still, we are putting others down in order to raise ourselves up in our mind. Now there are a couple of unfortunate things that are happening there. First, the hatred. Any time that you need to raise yourself up at the expense of anyone else, that is about as far away from Buddhadharma as you can get. The instructions from Buddhadharma are that we should gain so much compassion from giving rise to the bodhicitta. And when is that going to happen? When it feels right? No. You have to practice. You have to make it happen, even if you've got to grit your teeth. One step at a time, you give rise to the bodhicitta. And eventually, hopefully, you lose the habit of putting someone else down in order to climb on top of them, because the bodhicitta requires that we understand this: We are one being. Out there is everybody else, so it seems, in relative phenomenal reality. That being the case, there are more of them than there is of me. They are therefore more important. That is what the Dharma teaches.
The basis for that is not martyrdom. We're not going to go to the heaven of 87 virgins or whatever. Not that I would be interested in that. Anyway, I think it was only for men. You know, that's not going to happen to us. We don't think of it in terms of martyrdom. We think of it in terms of view. According to what the Buddha teaches, the idea of duality, the idea that we are separate, the idea that time and space are separate, the idea that mind is separate from time and space, these are all the confusions that we live with. And so, because of that, it looks like there are so many of us out there and me over here. But in truth, if I were to meditate the way the Buddhas and bodhisattvas meditate, with pure Dzogchen view, I literally could not find a place where I end and you begin. And so I am you. I look into your eyes and I see Guru Rinpoche. How much do I love Guru Rinpoche? That's how much I love you. Like that.
And so sometimes, I have the occasion to speak very harshly to my students. On occasion, I've had to, figuratively speaking, slap them around. I mean really. Here is half of a piece of rice. You must know there there is not even that much hatred in that, none whatsoever. When I come to the point that I feel like a student needs a spanking, it's because they are at a probability point. It could go this way or it could go that way, and I like to whap them over them that way. And that's my job—to keep my eye on those probability points.
Copyright © Jetsunma Ahkon Norbu Lhamo All rights reserved