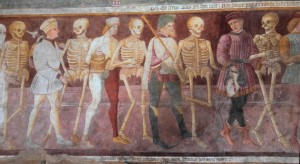 The following is an excerpt from a teaching by Jetsunma Ahkon Lhamo during a Phowa retreat:
The next realm is actually the human realm. Now it's funny, because in the ascendency of the different realms, although the human realm is not considered a lower realm, it comes after the three lower realms, and we tend to think 'staircase.' We're just like that. That's just how we're set up. It's one of our big problems. So when we hear the human realm we think, "Oh, well I guess humans are not that much better than animals. Maybe we should try to go higher." And then we sort of think in a worshipful way of the higher realms. But in fact, I will tell you right now, as I begin to talk about the human realm, that the human realm, of all the realms—even though there are other realms that are more pleasurable—the human realm is the superior realm. And it is the superior realm because only in the human realm does one have enough spaciousness, or the potential to accomplish spaciousness, within the mind. This is also called the leisure to practice, and has nothing to do with how much work you do. It has to do with the spaciousness in your mind. So only in the human realm is there the kind of mind that can compute the factors necessary in order to create the spaciousness necessary to contemplate and practice Dharma. Only in the human realm is that possible.
Now, once again, by way of explanation, this has nothing to do with how busy you are. People will say to me, "Well, this sounds great and I'm really excited and I'm a real excited kind of person and I wish you well, but I don't have time to practice Dharma because I'm very busy." And this really is what people say, "I wish you well. It's wonderful. Thank you for doing this, but I don't have time to practice Dharma." And they think that because of that they don't have the leisure to practice; and they make a decision based on that idea. And pretty soon, before you know it, our entire lives have gotten away from us. We've been busy, but we have not practiced any Dharma, or prepared for our deaths. And now we're coming to the part of our lives where suddenly we're getting ready to face our death. And we realize that everything that we've accomplished has added to our lives, but now we can't take our lives with us. Not one piece of them. And we're unprepared for our death. And that is one of the terrible things that can happen during the course of our lives as a human being.
When people tell me that they have no leisure to practice, that in fact I was wrong about that, that they are very, very busy and cannot practice Dharma, then I have to go back and explain to them again about the lower realms. Now think about this. If you want to know if you have the leisure to practice, even if you feel like you're up against the wall and you're elderly and you don't have much time, or you're sick and you don't have much time, let's talk about this. Compared to the other realms, you still, even now, perhaps one day before your death, have the leisure to practice, have the leisure to prepare, where the other realms do not. And the reason for that is if you think about the hell realm, you want to think about how the hell realm works. Think about the last time you went through all-pervasive, intense suffering. When is the last time you went through all-pervasive, intense suffering? Really think about it for a minute.
For some of us it will be the untimely death, let's say, of a loved one. Unbearable to lose someone that you care about so deeply. Or for others it will be the, to us, untimely end of a relationship on which we were completely dependent and about which we had a great deal of hope. We lost, let's say, a loved one. We were abandoned, or something like that. Many people say that there is no greater suffering than to be abandoned by someone on whom you depend utterly, and whom you love utterly. Many women have experienced husbands going through their second childhood in their forties and suddenly they're out the door. The women feel helpless, and many sufferings occur. So that might be an indication of that.
Another instance might be discovering that one is in fact sick and preparing for death. That is also an intense and all-pervasive suffering. And there are unfortunately in this day and age many more people who have that suffering than ever before. It is an all-pervasive suffering and it feels as though it takes you over. You feel like you cannot pull yourself together. It could be the suffering of losing the family, losing the job. There are so many different sufferings that occur in that way. And do you remember, when you were in the midst of a suffering like that, how all-pervasive the suffering was? And how little space there was to do anything but experience the suffering of suffering? Do you remember? During the suffering like that, if someone were to say, "Now come on, pull yourself together. Let's do what's best. What's best is to pull yourself together. Think positively. Let's lighten up a little bit. Come on now, pull back from this," you literally cannot do it. And you feel like making obscene gestures at the people who suggest that you do. You feel like,"I'm suffering. I have the right to suffer. I deserve this suffering, and I need to go through it. Get lost." We really actually protect ourselves in that way.
Now if we, who are human, have that condition, then think about how those beings in the lower realms must have that condition. The hell beings are suffering from intense heat that literally burns their bodies repeatedly again and again. The beings in the cold realm, intense cold that repeated breaks their bodies again and again. The beings in the varied and individual hell realms. The beings in the hungry ghost realms who experience need and hunger to the point where all you can feel is the panic and longing of not having. You know what that feels like. When was the last time you experienced in a really acute form the need and longing to be connected to another human being in love so that you can feel appreciated and approved of? Most of us spend our lives going crazy trying to act that one out. How much worse must it be in the hungry ghost realm? Because in the hungry ghost realm, then we are constantly, uniquely, singularly, and exclusively involved in our own needs and our own longing and what we can and cannot have. There's literally no space to practice Dharma, in the same way that you cannot teach Dharma to a hungry person. You simply can't. You cannot teach Dharma to a hungry person because they don't have the subtlety of mind to be able to appreciate and practice Dharma. Their mind is centered on the grossness and heaviness of the physical need for food. You cannot teach Dharma to a hungry person. You have to feed them first.
So, in these lower realms there is absolutely no space to practice Dharma. One cannot engineer the mind. Think about what it would be like to be cut with a knife right now. Somebody sawing your arm off. What's that feel like? Oh, this is unbelievable. While someone was sawing your arm off, unless you're some kind of great yogi or yogini, it's likely that you would not have the time to practice. What do you think? You know, we're sawing your arm off! Think about this for a minute. You're not going to have time to practice. And the reason why you're not going to have time to practice is because the suffering is unbearable. There's no space in your mind to practice. I mean, literally, you do have time, if you think about it. You have the time, from the time the saw gets to the skin, to a major artery, and all the blood leaks out. You have a little time. But you don't have time in your mind. Time in your mind is what we're talking about. So the lower realms do not have that. The reason why the human realm, therefore, is so auspicious and why sentient beings wish to attain human rebirth is because we uniquely have time to practice here in this realm. If only a moment; if only a day. That does not indicate how well we will practice. Yet still we have the capacity for practice, and that is unique to this realm.
The main suffering of the human realm, believe it or not, even after we look at the traditional sufferings of old age, sickness and death—and these are sufferings, you'll know it when you get there—the biggest and most horrible suffering actually of the human realm is, believe it or not, the very cause of the human realm. That while we have the merit to be human there is also a non-virtuous cause and that cause is the suffering of the human realm. It is doubt. Doubt is the main suffering of the human realm. It's what you're fighting right now. It's the demon that has arisen in your mind, the one that says, "She's not talking about me." Or the one that says, "Death? Me? Nah. I will think about that later. I don't have to think about that. I'm probably not going to die. I'll just think positive. I'll never die, I'll think positive." Ha ha ha. Yeah, you'll be the only one that worked for, too. So we'll think, "Okay, I'll just think positive and I'll just get through it. And besides, I don't believe her. I think what I'll do is just get all the different religious beliefs in the whole world and I'll lay them out in front of me and I'll select the prettiest, the one I like the best."
For example, Kalu Rinpoche left while he was sitting up practicing Phowa. He simply practiced Phowa the way the tulkus practice Phowa. The tulkus don't have to memorize this book.They just go. They go. They actually transfer the consciousness, literally. And this is the true way to practice Phowa—from ignorance into bliss. They go. And they go because their minds are such that there is nothing holding them back. They've practiced so their minds are smooth and not filled with the pitfalls that other sentient beings have. Sohe emptied his bladder and his bowels, because he knew that would be a good idea, and went over to his bed, smiled at everybody, and was kind of like leaving on a train, y'know. Kind of like, "Goin' to the beach for a while. Be back. See ya." Kind of like that. Rinpoche just sat down, smiled at everybody, looked real pleased with himself, got into his posture and meditated, and left. What a nice way to go. And he left consciously, the way tulkus do, preparing for, again, a conscious rebirth. How wonderful! How wonderful to be able to practice to leave in that way! And so that is the most extreme, wonderful example of what a human being can attain.
In the human realm we can study and practice and prepare for that going, and at that time death is no big deal. It's not an event. There is no difference, literally, between the death and the life. It is only different in the way that one room in a house is different from another. Yes, different. But for that level of practice it is the same experience, and the same experience has the same taste. And the taste is always simply the emanation, the display, the coming forth, and the giving rise to the great bodhicitta. So death is simply another day in the life of giving the bodhicitta, of expressing the bodhicitta. Not frightening to him. Frightening to us when we watched him, frightening to us when we lost him, frightening to us when people heard that he was dead. One more great lama who could guide us through the sea of suffering dead, gone. That's how we think. But he just left for the beach for a week. He'll be back. He's back. They come back! So for a lama like that who practices, that's what it is. But for us, we're so scared. because we're not ready. So in the human realm, we can prepare ourselves and we can be ready.
Copyright © Jetsunma Ahkon Norbu Lhamo All rights reserved