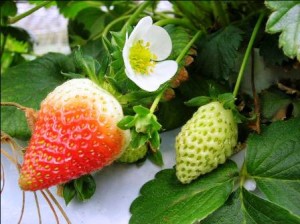 The following is an excerpt from a teaching by Jetsunma Ahkon Lhamo called "Art of Dispelling Anger"
The fruit of potential and method is the awakening. But in Buddhism we see all three as the same and it is taught that all three are the same. And in truth, there is no realization without understanding the sameness of these three,. It is easy to think that we are evolving in a step by step way; and it is easy to think that we're on the ladder. See, I am up here and somebody else is down there and some of the people are over here. And we get into that view, and that's not what the Buddha taught. The Buddha did not teach that someone is higher and someone is lower. The Buddha taught that we should recognize the appearance of the Buddha nature in the world as our root gurus. The root guru gives us the method, and therefore we have the result. But nobody is better than anybody else. That is a different religion or a different idea, or something else. I don't know what that is, but we don't have that here.
Ridding ourselves of hatred is based on that kind of thinking, that kind of view. Really understanding the Buddha's teaching that there is the foundation, the method and the fruition, and that is the path. Succinct, boom, right here. This is it. And we understand that, again, according to the Buddha's teachings we are all suffering. We are all in the same place. Here we are. Even the people that are not in this room, we are in samsara together. They want to be happy like you do. You struggle for happiness, don't you? Come on, don't you? Every day. Every day. And we do it sometimes rightly or wrongly. It's a mixed bag because we lack understanding. But the method is to recognize that all beings wish to be happy. If there are three people sitting in front of you, and two or three of them are unhappy, you come out of yourself and try to help. Efforts like that are what move us along on the path. Not just doing the fancy practices and knowing the fancy words.
Of course, we do not achieve realization by deeds alone. That is a long and difficult path. We have the Dzogchen path, which is so remarkable. It not only gives us method and the opportunity to give rise to the bodhicitta, but we also are given the wisdom to understand the empty nature of phenomena. Through that method we can understand that in samsara we are in a bit of a bubble, or an echo chamber. It's kind of like that. Unfortunately, it's also the nature of samsara to be somewhat blinded to that. Again, we are still asleep. It's like a dream. It has a dream-like quality. You know how in dreams crazy things happen? And it's OK. It makes sense somehow. Like you could be somewhere and then you are somewhere else, and it makes sense. But that dream-like quality exists right here and right now. We literally do not understand that when we gossip about a fellow vajra brother or sister, or any sentient being of any quality, or put them down, at the same time, we create that energy, that cause. Somewhere in samsara, the result is also being born. Right then. Something will change because of that hatred. Now we often don't see it immediately, but it comes back to us; and the way it comes back to us is according to our conceptual belief. We believe in relative phenomena being solid as it is until we become practitioners, hopefully. So when somebody sends a negative energy at us, like their anger, we think, 'Oh, it's coming from them. Everybody hates me.' But in fact, what has happened is that you have sent out hatred. It echoes back and it will come through somebody else's mouth. Do you know why it's nobody else's fault?. Because there is nobody else. Bingo. There is nobody else. And how you can sit there and say you are practicing trekchod and togyal and you don't know that yet, I can't figure out.
We must take responsibility for our experiences. How will we ever awaken if we don't understand the unhappiness that comes to us is of our own making? It may have been in the past, the past in some past life. It may have been recent. I see you guys creating the causes of suffering all of the time. And so, get back to the basics. Follow the Buddha's teachings. To antidote hatred,… And I know, hatred is my big one today, OK? We'll do greed and ignorance some other time and the other ones as well. To antidote hatred, the antidote has to be very strong, because hatred is such a strong energy that it brings about war in places where there is a lot of emotional, egocentric agitation that has hatred as part of it. Any time there is emotional, egocentric agitation, there will be hatred. Places like that often have a lot of earth movement and strange weather and that sort of thing. And war. Who would have guessed it?.
And so, we have to understand that we want to awaken, but we don't want to take responsibility. We want to awaken, but we don't want to stop dreaming. We want to awaken, but we don't want to go through that effort of bringing ourselves into truer awareness, something that is more profound and deeper and more real than our own simple habitual tendencies.
Copyright © Jetsunma Ahkon Norbu Lhamo All rights reserved