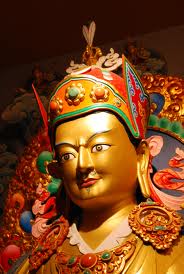 The following is an excerpt from a teaching by Jetsunma Ahkon Lhamo called "Experiencing the Hook of Compassion"
The teacher is considered to be the very door of liberation. The students are looking to walk through, just as they're wanting to exit that burning house. They want to walk through that door. And it's a really amazing thing.
In the Vajrayana tradition, we are taught that when a tulku appears in the world, a tulku is considered to be an emanation of Lord Buddha or Guru Rinpoche's enlightened compassion. The teacher is considered to be an extension of that. Guru Rinpoche himself said, "I will appear in the world as your root teacher." The root teacher is defined as the one with whom you have such a relationship that upon meeting this teacher, upon hearing this teacher, you have immediately understood, or perhaps over time, have understood something of the nature of your mind. You have seen something; you have recognized something. And -perhaps through some words that the teacher has given you, perhaps simply through being with the teacher; perhaps through some experiences that you have had while you are with the teacher,  you have come to understand something of your own mind. You've come in some small way to see your face. That may not necessarily be pleasant at first. You see?  You think that that should be a beatific experience, and you're waiting for the Hallelujah Chorus . That may not be the way it happens to you. It may be painful at first. You may realize how puffed up you are at first. You may realize how vapid your life has been thus far. That's painful. Of all realizations, that's the most painful. And you may take account of yourself; and the account may not be so good. And suddenly, suddenly you have this urge and this yearning. That's your face. That's your face just as surely as if you had been struck enlightened immediately upon seeing your teacher. That is your face. That face that turns you around and moves you… That's your face too.
So when you meet your root teacher, that relationship becomes so fantastic, so wonderful. And that is the display of Guru Rinpoche's touch. That is how Guru Rinpoche has appeared in your life. You cannot doubt that. That is how the Buddha has appeared to you, because that is the beginning. That is the face; that is the movement; that is the method of enlightened awareness. That is the beginning of the awakening. So that must be the Buddha. That must be the Buddha appearing in your mind.
Copyright © Jetsunma Ahkon Norbu Lhamo All rights reserved