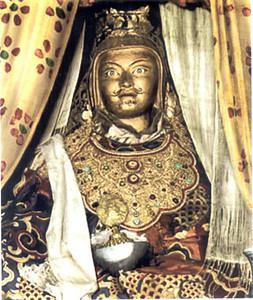 An excerpt from a teaching by Jetsunma Ahkon Norbu Lhamo on October 18, 1995
This teaching is meant to help us correct our view and deepening in Guru Yoga.  We will be thinking about how to deepen in our practice and how to practice with a deeper and more profound sense of view.  Remember that the antidote that we are trying to apply now is the one that addresses our superficiality.
As materialists, modern people, and sentient beings in general, our minds are very superficial.  In fact, our superficiality is literally invisible to us simply because we have no sense of what anything other than superficiality might be.  As you listen to this, you should listen with your "doors" open.  That means, don't just listen lightly the way most people do. Most people, when they listen to either conversation or teaching, listen to it just skimming the surface, picking out the main points.  In this case, you don't want to use that technique.  That's okay for ordinary listening, but in this case you want to not only hear everything that is actually said, but at the same time, you also want to try to understand the concept that's being presented in a deeper way.  It's as though you want to receive the totality of the idea, not just the top of it.  You don't want to try now to determine what are the most important parts.  In other words, accept the entire teaching, and then, later on, as you begin to digest it, you'll be able to determine what the important parts are more readily.
Generally, when we walk around in our normal waking consciousness, we think that we are with the Guru only when we are praying or doing our practice. We visualize the Guru in front of us.  We think, "Oh, now the Guru must be here by the force of my devotion."  That's appropriate, that's what I've taught you.  Then we think also that we are with the Guru whenever we see the Guru's face.  We think that when the Guru is actually in the room and we see the face, we see the form, and we think that we are with the Guru.  If we see a picture of the Guru, maybe we have a moment of devotion, and perhaps we feel a connection because of our past practice.  We think, "Oh, now we are with the Guru."  In fact, if we are really to examine the way that we are thinking at that point, it is extremely superficial.  There's no view in that at all.  It's superficial.  It's completely inaccurate.  If we think in that way, it goes to show us that we have not accomplished pure view.  We have not accomplished a deeper view.  So this would give us a lead as to how to practice more deeply.
When we think about when we are with the Guru, we have to try to understand the meaning of our relationship with the Guru in the deepest possible sense.  We try, hopefully, to move past our perception of the Guru as an individual person.  This is our goal.  This is what we're trying to do, generally speaking, in our devotional yoga.  We are trying to see past the personality, past the superficiality, into a more profound understanding, a more profound view.
Let's go back to that question that we might have answered differently while we were thinking more superficially: when is it that we are with the Guru?
We are with the Guru every moment that we have the Buddha nature.  We are with the Guru so long as we appear in the world but still have within us the Buddha seed.  What that actually means is that the Guru represents for us all sources of refuge: all Lamas, all Buddhas, all Bodhisattvas, these three that arise from the primordial nature.  The Lama represents for us the Dharma: all of the Dharma, every word that was ever uttered of Dharma teaching.  The Lama represents for us as well the entire Sangha: every monk, every nun, every Lama that has ever taken robes, that has ever practiced the Dharma.  The Lama represents as well all the meditational deities with all their qualities and all their particular incarnations and all of their activities.  The Lama represents as well all of the dakinis and all of the Dharma protectors.  So when we think of the Lama, we think that everything that arises from the fundamental Buddha nature, from the pure primordial nature, that which is our Buddha nature is represented by the Lama.  Everything that the Lama represents arises from the Mind of Enlightenment.
Conversely, the Lama does not represent those things that are present in samsara.  The Lama does not represent those things that increase our five poisons, that increase our delusions.  The Lama, therefore, cannot cause suffering.  The Lama cannot cause an increase in ignorance.  In a natural way, the Lama is not capable of giving rise to more suffering and more delusion.  If somehow within the relationship that we have with our Lama there is some suffering, then we have to look to ourselves as having impure perception, as having incorrect view, incomplete understanding and the tendency to project outward what is actually happening within our own minds.  The reason why we know that the Lama cannot increase our suffering or increase our poisons, or harm us in any way, is that the Lama actually appears as a display arising from the very Mind of Enlightenment and within the Mind of Enlightenment there is no cause for suffering.  There is actually no cause for suffering, so the seed is not there.
© Jetsunma Ahkön Lhamo