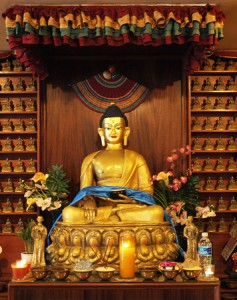 KPC has wonderful news! In a meeting with the Interfaith Advocate from Montgomery County, we were informed that we can open our doors, that visitors can come and go, taking advantage of the many blessings the temple has come to offer. The Prayer Room will be open 24 hours a day, 7 days a week once again for ANYONE seeking a place of spiritual refuge. You will be welcome to meditate quietly or pray, and take in the wealth of blessings offered by the statues, thangkas and crystals.
Not all functions of the temple will be able to continue until we are able to navigate the permitting process of Use and Occupancy and make the necessary renovations to ensure public safety and accessibility, but for those who have come to count on KPC as a place of peace, refuge and blessings the doors will once again be open to all regardless of faith.
We cannot hold events inside the temple, but will continue to offer events outdoors in order to continue with KPC's mission of offering the Dharma. In just a few weeks KPC will host Khenpo Norgay who will be offering teachings and empowerments associated with Phowa, a powerful Buddhist practice to prepare for the time of death. Though this event will be held outdoors, KPC will do it's best to ensure you are comfortable while enjoying this precious opportunity.
Please continue to support us in our effort to come into compliance with the county. The renovations required to ensure the safety of all will require everyone's ongoing support, as they will be very expensive.
Please donate
. Meanwhile, all are invited to come and partake of the many blessings of KPC.
To learn more please visit: www.tara.org