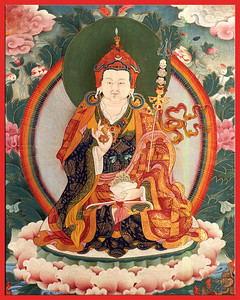 An excerpt from the Mindfulness workshop given by Jetsunma Ahkon Lhamo in 1999
Guru Rinpoche himself said, "I will appear as your Root Guru," and that appearance is to be recognized.  It demands to be recognized.  One of the reasons why I harp so much on reciting the Seven line Prayer is because the Seven line Prayer is a prayer, the blessing of which creates the capability of seeing the Guru in all things, and of following the Guru and of practicing in such a way as to discriminate that absolute nature.  The nature of that prayer is to begin to awaken our inner psychic channels and to bless our psychic channels and winds and fluids in such a way that everything within us that is the Buddhanature begins to awaken.  That's the power of that prayer, and it is done through the practice of recognizing and discriminating what is extraordinary.  In order to provide for that kind of recognition, we have to put a lot more effort into that aspect of our practice than we have up until now.
Maybe I am giving you the impression that it's all about Guru Rinpoche.  For me it is, but maybe that's because I'm lucky enough to have had enough teachings to have an understanding of Guru Rinpoche's nature.  When we talk about the nature of the Guru, we are talking about the perfect mating of wisdom and compassion, of emptiness and appearance.  When you see the image of Guru Rinpoche, you always see that staff crooked in his arm, and that is the symbol of his consort.  It indicates that the Lama is never separate from his consort, and the meaning of that is the non-duality and union of emptiness and appearance, of wisdom and compassion, or bodhicitta.  That is the meaning of that union of Lama and consort.  So Guru Rinpoche is always seen that way.  We are to understand from that, then, that His nature is the perfect union of wisdom and bodhicitta, of the view of emptiness and the understanding of the display of appearances.  That is Guru Rinpoche's nature.
That being the case, we have to find a way to not only recognize the physical form of the Guru, the picture that looks like Guru Rinpoche or the picture that looks like your teacher.  We really have to get past that and go into a deeper sense of trying to awaken and potentiate our own meditation, our own understanding, of the nature of emptiness and of the nature of appearances.  We have to begin to potentiate and practice and meditate in such a way that we see wisdom and compassion as being like the two eyes of our practice.
Click here for a teaching on the Seven Line Prayer and audio files of Jetsunma chanting the Seven Line Prayer.
© Jetsunma Ahkön Lhamo