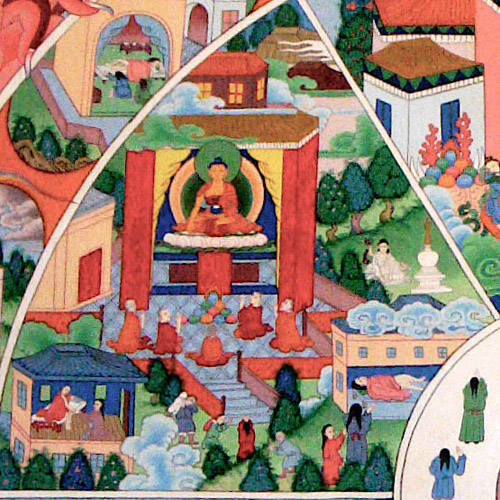 The following is an excerpt from a teaching by Jetsunma Ahkon Lhamo called "The Foundation of Bodhicitta"
Now having been introduced to the six realms, you should look at all of the different qualities that produce these rebirths: anger, grasping, ignorance, doubt, jealousy and pride. You should think that the thing to do, if you have any understanding at all, is to begin to engage in activity that pacifies those kinds of qualities. How does this mesh with compassion? When you think about engaging in compassionate activity, you have to view compassionate activity in accordance with this teaching because you might think that compassionate activity would only be to be nice to people, and actually that is one kind of compassionate activity, or to give money to the poor, or to feed people. That is one kind of compassionate activity; that is one kind of bodhicitta, but it is temporary bodhicitta. It will produce a temporary cessation of suffering for the people that you help. If you give them food when they are hungry, it will produce the end of temporary suffering. If you give them money when they are poor, it will produce the end of temporary suffering. But if you really want to get into ultimate bodhicitta, which is the quintessential practice of the Mahayana vehicle, and Vajrayana as part of Mahayana—Vajrayana is what we practice here—what you really want to do is to practice ultimate or supreme bodhicitta. Ultimate or supreme bodhicitta is creating some kind of practice that will be a vehicle by which the qualities that produce this result will be pacified both in yourself and in other sentient beings.
I've described the six realms of cyclic existence. Where in the six realms is there relief? Nowhere. Will you find relief as a result of temporary help in any of the six realms? No, because you will be reborn again. And where? We don't know. We just don't know. In cyclic existence, there is no true relief. All there is in cyclic existence are the components of cyclic existence. That is all that is in that pot. You cannot expect true relief from cyclic existence. So ultimate bodhicitta and an ultimately compassionate act would be to become a Buddha yourself. To become highly enough realized yourself to make that commitment to attain realization in order to return again and again and again, emanating from the mind of enlightenment in order to be of benefit to sentient beings, because that is where relief comes from.
Now let me see if this is a typical thangka? No this is not a traditional thangka. The traditional thangkas usually show a path coming out from the human realm leading to enlightenment. As a human, you can make the ultimate gift. You can engage in the supreme practice. You can achieve enlightenment yourself and, therefore, you can be a returner. You can return again and again and again in order to lead sentient beings through a display of your enlightened compassion.
Copyright © Jetsunma Ahkon Norbu Lhamo All rights reserved