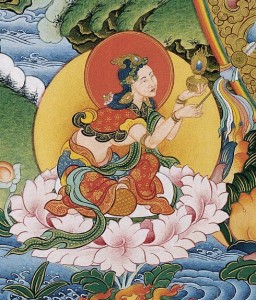 "Dissolving in the expanse of space
like a rainbow, without remains,
She departed to the
Akanishta Paradise of Pamavyuha.
She transformed into the embodiment
of the supreme consort,
The secret primordial wisdom dakini.
To the feet of Mandarava, I supplicate!
Together with nine hundred
pure awareness holder disciples,
After dissolving into a rainbow body,
she manifested herself once again
for the benefit of others.
Mandarava emanated unceasingly,
manifesting herself as a dakini to tame
the minds of beings in
every essential way.
To the feet of Mandarava I supplicate!"
— Guru Padmasambava