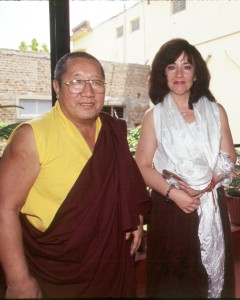 The following is an excerpt from a teaching given by Jetsunma Ahkon Lhamo at Palyul Ling Retreat in the summer of 2012:
I am very pleased by all the effort that you've put forth to make this place grow and shine as it has, keeping it going even in great adversity, for instance the passing of His Holiness Penor Rinpoche.  We all suffered and now we're doing what we can to bring about the causes that he can return to us.
I remember back in the beginning when I first met His Holiness Penor Rinpoche.  It was on his first visit to the United States.  He wanted to see me.  Back in those days dharma was kind of confusing.  We didn't understand each other when the lamas first came to America.  It took awhile for us to come to that point, where we really understood each other.  Mostly it was our lack of understanding as Westerners that made the problems.
You all have beautiful, nice, and condensed practice books.  I want to show you what we were working with.  We mostly had loose-leaf sheets of paper, pictures, and books stuck together.  [Shows an old practice binder]  There are things here that I don't even recognize anymore.   We all made our own books.  We were all new and we did our very best.  I wanted to show you this because I thought, 'What a mess.'  I thought you'd get a kick out of it.  Those were my first practice books.  And it was a long time ago.
Personal reflections on His Holiness Penor Rinpoche
I had the happiness of knowing His Holiness for a long time, and had many wonderful experiences with him.  I don't mind sharing them with you if you'd like to hear some of them.  I'd like to tell you about one time when I was in India and we were traveling around looking for statues.  It was so unbearably hot.  We were staying in this hotel and it was about 104 degrees Fahrenheit or more.  His Holiness was used to heat but he made sure to put me in a hotel with an air conditioner, which I stuck to, and that was very nice.  While at the hotel, I met the woman who cleaned my room, and she told me about her husband.  He was sick, had cancer and was dying.  She said, "Would you come and give a blessing to my husband before he dies?"  And I said, "Oh, it's worthless if I give him a blessing, but if His Holiness gives him a blessing, that's something. That's definitely worthwhile."  And so she said, "Oh!  Would he do that?"  And I said, "I don't know.  I'll ask."
They were Hindu.  When I asked His Holiness, he said, "I don't think Hindus like Tibetans very much.  We eat meat."  And I said, "With due respect, Holiness, I think in this case it doesn't matter.  These people so want to see you.  They so want the blessing.  These people are going through misery.  They live in a tin box on top of the roof, and she has to raise children by herself."  His Holiness was very wrathful with me.  He said, "I had to leave Tibet and come to America.  I watched my own people die.  And now I am supposed to think that this is important?"  He was very wrathful.  But I know what he was doing.  He was creating the merit, and clearing the obstacles for this event to happen.  But as you know, His Holiness was very kind.  So finally he stomped his foot and he said, "Ok.  I'll go."
We climbed up to the roof, and it was hellish really.  His Holiness' knees were bad then too.  I was so sorry and embarrassed that I had put His Holiness through that, but then I was so happy for the people that would receive the blessing.
When he came to the door of the tin shack they were living in on top of the building, it must have been 115 degrees inside.  It was so horrible.  We said, "His Holiness is here to give the blessing.  And the woman got down on the floor, and put her head to his feet and then she prostrated again at his feet.  She couldn't stop.  She just kept doing it.  It was heart breaking to see the devotion that she felt for someone who would not abandon her in this terrible time; who would provide comfort and some help.  And His Holiness did that.
He spoke to her in Hindi.  And he asked her, "What is the problem?  How long has he been sick?"  She could hardly speak.  They were both so grateful and happy to have his blessing, and that he would think of them, because they were lowly people according to the caste system in India.  They were lowly people and poor beyond belief.  They said that some days he didn't even eat, because there was no food.  And so His Holiness was told the condition of this man, and you could see in his face that he had great compassion.  The man had cancer of the mouth.  You could see that something was terribly wrong, but he had no medicine.  The agony that he was experiencing was hard to understand.
Here's the kicker.  His Holiness said, "Open your mouth."  When he said this, I tried to peak, and what I saw in there was horrible.  His Holiness said, "Open your mouth wide."  He started pounding out mantras. Nothing I recognized.  He really pounded out the mantras.  And as he did that, he was blowing, blowing, blowing in the man's mouth.  Holiness pounded out more mantras, and blew in the man's mouth.  He kept doing this for quite a long time.
The couple was so thankful.  They offered Holiness food and drink, which of course he didn't take.  They offered him food and drink.  He was working his heart out for them.  As we were leaving, they were bowing and bowing, and bowing.  It was so beautiful.  When we got down towards the room, I said to him, "Holiness is he going to live now?"  And he said, "No, there's no chance.  The merit is gone.  There's no chance for him to live now," he said, "But he will have no pain."
Already the man's mouth was chewed up with cancer, and yet His Holiness said he would have no pain, and I know that's true, because I met the woman again on the next day of our travels.  She said he had no pain that day.  I was so happy that happened.  I was just thrilled.
I left the my room door open so I could see where His Holiness was, and he could see where I was, and when he went passed by room, I just went down to him and I said, "Holiness, I know that was difficult, but thank you.  On behalf of them, thank you so much.  I don't know how to express my gratitude."  And he said, "No, I thank you."
I will never forget that story.  He was grateful that I had insisted that he take this opportunity to help them.  He saw the value of it.  He saw that these people were helped and that they were just regular, innocent people.  His Holiness helped them so much that to my knowledge the man never had pain.  The woman and I wrote back and forth for a little while after that, and she said that he never had pain.  To me that am the most moving story about His Holiness that I know.  And I find it impossible to have seen that and not understand that he was Buddha, that he is Buddha.  No one but a Buddha would or could do something like that.  I miss him so much.  I know that you do too.
Copyright © Jetsunma Ahkon Lhamo.  All rights reserved