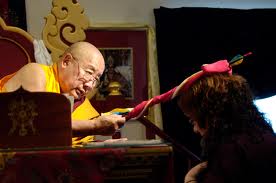 The following is an excerpt from a teaching by Jetsunma Ahkon Lhamo called "The Guru Is Your Diamond"
When we practice Ngӧndro, one of the most important sections of Ngöndro is the Guru Yoga. It is beautiful. The cries to Guru Rinpoche are plaintiff and haunting and just moving. How can you describe it any other way? The Lama Khyen No. And yet in the Ngӧndro book, Guru Yoga's at the last. When I started practicing Ngӧndro, I asked for special permission to practice the Guru Yoga first; and I was given that because of my special connection with Guru Rinpoche in the past. And to me, it was the most beautiful and pure and worthwhile time I've ever spent.
For most people, we want to start with the Taking Refuge and the Bodhichitta. And the reason why, again, is because the first need is to discriminate between what is extraordinary and what is ordinary. We cannot really practice Guru Yoga effectively unless we've made that discrimination. Because if we can't make that discrimination, we're basically practicing to a cartoon image that we do not have the depth yet to understand; or maybe we are practicing on a personality level—that my personality is worth worshipping the Guru's personality. And again, that's a baby step. It's not to be sneezed at, but it's not where we stay either. We go further than that.
When we practice Guru Yoga, that's the rocketship of tantric Buddhism. That's the shortcut. The luckiest practitioners on the Path of Vajrayana are those who feel—not that they have to display it in any outward way or even see their guru that often—but who feel they have, and who have cultivated a special connection with their teacher, a connection not of persona to persona, but of recognition that connection of recognition. And that is where we go in our practice and we visualize our teachers and say, 'I understand that this is the very nature of enlightenment; that this is the same nature as Guru Rinpoche; that this is the same nature as all the Buddhas of the ten directions. That this Buddha, this teacher that I have, has been taught to me by Guru Rinpoche to be the Buddha in Nirmanakaya form.' And we think like that, that kind of recognition, that kind of intention; and a kind of—I hate to use the word passion, because people think of passion in only a certain category—but one develops a passion for the nectar that one's teacher has to offer. That person is ripe. That person is ripe, not only to enter the Path, but blessed in such a way that not only will they continue, but very likely they will find completion stage practice, as well.
When we connect with our teacher in that way, and really give rise to that recognition, that says that, indeed, this is exactly what Guru Rinpoche promised. Guru Rinpoche said, "I will be there with you as your root teacher. If you call to me, I will be there." And so, of course he's saying that in the presence of one's root guru, having been given the blessings, now we practice Guru Yoga. And that is the very nectar of Guru Rinpoche's blessing. How fortunate for those of us who have that sense, even in some small form, enough to where you know, like an ember, you can fan the flame. That's the most fortunate connection of all.
Copyright © Jetsunma Ahkon Lhamo. All rights reserved