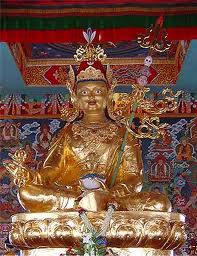 The following is an excerpt from a teaching by Jetsunma Ahkon Lhamo called "Conceptual Proliferation"
Now, in the way of confession, I will tell you honestly that this kind of situation has happened to me, and I've really done my best to remain pure in holding to the equality of all that lives. The way in which I hold to the equality of all that lives is that I don't look at you in the way that you are now. I don't see you that way. I see you as being the very Lord, the very Buddha, and that someday you yourself will be in the business of liberating beings. So you are, each and every one of you, to me, a treasure beyond any measure. A treasure, a unique and incredible treasure. But not unique in your individuality, not unique in samsara. There's nothing like what you really are. But I don't actually look at each of your personalities. So I've had people say to me that I'm not accessible on a human level. It's not that I'm not accessible on a human level. I do feel that I'm accessible on a human level. I'm just not friendly on that level because I don't see you on that level. I don't want to either. What would be the point? You do that well enough on your own. I can give you something else, and I'd rather do that.
Here's where the honesty and the confession come in. I've had it happen a number of times that before I give a class I'll be told that a teacher is here. There's a teacher here. Someone will be sitting down and they'll say this person teaches spiritual things to others and has a number of teachers, like 25 or 30 maybe (30's much more impressive than 25, don't you think?); and that person will sit down there and say, 'Just remember that this person's here and they even teach a little yoga.' Or, no, 'This person's here and they channel, you know, like the hierarchy and everything. And you should know that this person is here.' And I think what they expect me to do is go, 'Ooooooooo!' But I never do and it's just so darned disappointing to everybody. Nobody really likes this about me. In fact, what I actually do… And here's where the meanness in me comes out. What I actually do is that when I find such a one, I find a way to rib teachers that day. Or I find a way to not pay any special attention to them. You know why? Because I'd like to dismantle that super-structure. I'd like to see it fall apart before my very eyes. I would like to see them come to the point where they realize that they just don't know, and they need to follow the guidance of the Buddha's teaching. They need to follow the enlightened mind in truth. They need to get off the high of power and pride. They need to get real. Like that little guy said, 'Get down and get funky.'
And so, it probably looks like, and perhaps there is a little bit of arrogance in there somewhere. What do you say? But in fact I want to tell you from my heart that I see that one, whoever that one might have been, the same as any of you—all in the same condition, all in the same shape, ultimately and supremely worthy, worth saving, worth loving. And I promise you from the depths of my being that I would come back and reincarnate if I could be of benefit to any one of you, just for one of you. And for that one also. So you can't say that the love's not there. But I don't think that we're serving ourselves and I don't think that we're serving each other when we play that little game.
So I challenge you to awaken each morning and continue every moment of every day by thinking I don't know anything, and make a big joke about it. OK? That's going to be your big joke, like Pee Wee's Big Adventure. Your big joke today is that you don't know anything. You just don't have a clue. You're going to start dismantling this craziness that you run around in and try to look for the lighthouse. Try to see it. Don't make one up either. Go to your guru. Go to your teacher. Come and find out the path and practice the path, and practice it purely. And if your guru says to you that you are confused, then, buddy, you are confused. And if your guru says to you that you should practice compassion instead of anger, drop the anger, practice compassion. And if your guru says to you that you should let those thoughts, whatever they might be, whether they're anger or pridefulness or whatever, rise to the surface of your mind and just leave them alone, don't follow them, that you should meditate like that, then pal, it's time to do it. You should think like that. You should think that when you're here, your guru's teaching. When you hear the teaching of the Buddha through the mouth of your guru, you should think that this is the very nature of my own mind shining at me. That this is liberation. This is liberation. Really think like that: This is liberation.
Copyright © Jetsunma Ahkon Lhamo. All rights reserved