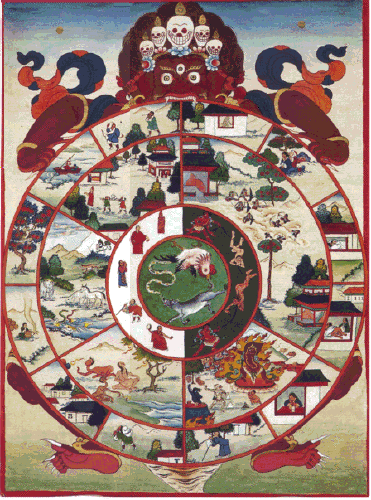 [Adapted from an oral commentary given by His Holiness Penor Rinpoche in conjunction with a ceremony wherein he bestowed the bodhisattva vow upon a gathering of disciples at Namdroling in Bozeman, Montana, November 1999. —Ed.]
Of all worldly phenomena, whether great or small, nothing is permanent and nothing endures. Therefore, when you find yourself attracted to or attached to the happiness of existence, you must bring to mind the faults of existence. Consider that not even a single phenomenon is permanent, no matter how great, wonderful, or powerful it may seem. Consider especially how once that phenomenon [you associate with a happy existence] changes, you will experience nothing but suffering as the result. That way you can move your mind away from having strong attachment to impermanent phenomena and begin to change your habit of always following apparent phenomena based on [experiencing] temporary pleasure and attachment.
Think, for instance, about sentient beings that, due to anger and aggression, have accumulated the negative karma to fall to the hell realm. Those beings have accumulated tremendous negative karma that will keep them in the hell realm indefinitely. In that realm, unable to establish any positive causes at all, they will experience nothing but intense suffering. Think about the eight hot hells, the eight cold hells, as well as the peripheral hells surrounding them. Although it is inconceivable, think about the suffering that sentient beings in those hells must endure.
Then consider the deprived spirit realm. Think about the beings that accumulate an abundance of negative karma through the passions of avarice and strong desire. The result of such accumulation is rebirth as a deprived spirit. There are different categories of deprived spirits, such as outer and inner ones, but essentially they all endure inconceivable hunger and thirst that is insatiable. Furthermore, they never die from that; they just continue to suffer indefinitely, without ever being satisfied.
Next, consider the animal realm. Negative karma accumulated through the passion of delusion produces the result of animal rebirth. Animals suffer from basic delusion and ignorance, mistreatment by humans, and being preyed upon by one another. From the largest to the smallest, those who are as large as mountains to those smaller than the tip of a needle, all suffer from basic stupidity and ignorance, so they are unable to escape and are unable to do much more than just endure the karma in that rebirth until it is eventually exhausted.
Then consider the rebirth that is so difficult to obtain: that of a human being. Compared with the three lower realms of existence, human life seems very blissful; nevertheless, there is great suffering in the human realm. Human beings suffer from confinement in the womb and from the processes of birth, illness, disease, and growing old and the decline in their faculties, until eventually they experience the suffering of death and of leaving everything behind. Humans are subject to all kinds of indefinite circumstances and situations throughout the course of their life. Some die at birth, some die as infants, some as adolescents, and some as adults. Some die alone and unwanted or in an untimely manner.
In addition to the four great rivers of suffering, human beings experience—birth, old age, sickness, and death—humans experience compounded suffering. For example, humans suffer mistreatment at the hands of their enemies, and they suffer when they lose their loved ones. In fact, they suffer from fear that precedes the actual events themselves. Humans also suffer from not getting what they want and from having to accept what is not desired. They even suffer from acquiring what is desired, because then they have the fear of losing that. Against their will, humans endure all these unexpected consequences.
Many people think that after they die and leave this life they will easily return as a human being. Many believe they will just be able to return to a happy state of existence, such as the one they might now be accustomed to. That is a mistake. I can guarantee that unless you have the specific karma to do so, you will not take another rebirth as a human being. Without the karma that creates the causes for it, the result of human rebirth is impossible. Make no mistake about it.
Next, consider the god realm. Gods remain in their realm where they experience immeasurable bliss and happiness for long periods of time. They all have their own palace and gardens, wish-granting trees, and celestial food; everything in their external environment is inconceivably wonderful. Internally they experience only happiness and bliss throughout the entire course of their life. Eventually they exhaust their karma for that rebirth. Prior to that, the dying clairvoyant gods see the place of their future rebirth, which in most cases happens in the hell realm. They take such a rebirth due to having exhausted all tainted virtue that brought them rebirth in the god realm, and then nothing remains for them except an abundance of weighty negative karma. The vast storehouse of merit they once possessed is spent, and they have nowhere to go but to the lowest hell realm. Seeing the irreversible fate that awaits them, and knowing it is too late to reverse that, they experience tremendous suffering. They are powerless to reverse their karma of having to fall from the celestial realm of the gods to the lowest realms in existence.
Buddha therefore taught that there is not even a needle point's worth of true happiness in samsara. Now you can understand the meaning of that teaching. Even if there is happiness, it always changes because it is impermanent. Happiness in samsara occurs as the result of the karma produced to cause it. Once that cause and result are exhausted, that happiness becomes something else, which is why the term cyclic existence is used to express the nature of life in the six realms. Sentient beings pass from rebirth to rebirth, revolving on this endless wheel of changing realms in dependence on their own karmic accumulations.
If your hair were to suddenly catch fire, you would immediately, without hesitation, try to put out that fire. Likewise, by understanding that cyclic existence is by nature permeated with suffering, and by understanding that it can never be anything other than that, you should immediately, without hesitation, focus on putting out the fire of cyclic existence. Focus totally on effort to extract yourself from this endless suffering of cyclic existence, so that you can achieve the state of permanent bliss and happiness, the state of fully enlightened buddhahood.
Thus it is taught that in order to be successful in reversing strong attraction and attachment to cyclic existence, we must practice dharma. Through the practice of dharma we can reverse attachment to existence and gain more momentum toward liberation, to the point where we realize the state of permanent bliss and cease to return to samsara.
From "THE PATH of the Bodhisattva: A Collection of the Thirty-Seven Practices of a Bodhisattva and Related Prayers" with a commentary by Kyabje Pema Norbu Rinpoche on the Prayer for Excellent Conduct
Compiled under the direction of Venerable Gyatrul Rinpoche Vimala Publishing 2008