The following is from a series of tweets by Jetsunma Ahkon Lhamo: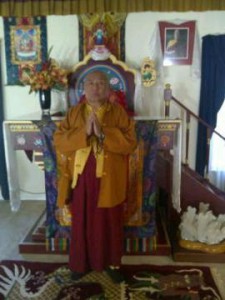 Since the visit of Kyabje His Holiness Ngawang Tenzin I am feeling much better! How can I thank him? Gratitude!
His Holiness Ngawang Tenzin "knew" I wasn't doing well, and came to practice until I did. Night and day. I feel His Holiness saved my life.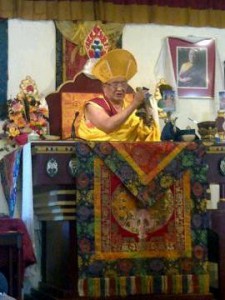 Kyabje His Holiness Ngawang Tenzin of Bhutan is a living Buddha, so kind and powerful, so pure! I was too sick to see him.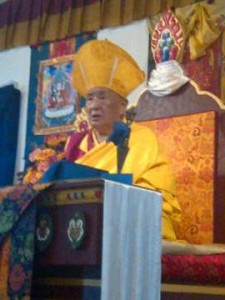 Kyabje His Holiness Ngawang Tenzin is also a root Guru for me. His Holiness never gave up until he knew I'd be fine. The day His Holiness left he rose early, still doing Puja for me.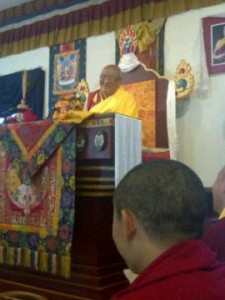 I Pray I will someday travel to Butan to see His Holiness. I love and feel devotion for His Holiness Ngawang Tenzin. For all getting ready to jump down my throat, His Holiness Ngawang Tenzin is Kagupa, yet I am and will always be a Lineageholder in Palyul. Even I am allowed to have friends and feel devotion for a living Buddha Kyabje His Holiness Ngawang Tenzin of Bhutan. This is a miracle!
Drukpa Mila Center
The Melodious Sound of the Auspicious Dharma Conch with the Clockwise Swirl
A Long Life Prayer for H.E. Ngawang Tenzing Rinpoche, the Great Piercing Arrow of Accomplishment.
OM SWASTI NGEY SANG DAM PAI DÜ TSI MA LÜ PA THUK SU TAM PAY NGA DOI DÜ THAR YANG
May all be auspicious! The immortal nectar of the ultimate secret teachings without remainder filling our hearts even in the degenerated times.
NYING POI RING LUK PEL WAI CHHÖ KYI JE NGA WANG TEN ZING KAL GYAR ZHAB TEN SÖL
King of Dharma, propagating the essence of the doctrine, Ngawang Tenzing, I pray your life remain firm for hundred eons.
MI GYUR ZHI YI NAY LUK JI ZHIN ZIK KYE DZOG LAM GYI DRÖ PA TSE MOR SÖN
Seeing all things in their basic unchanging reality, you have reached the summit of the path of generation and completion.
ZUNG JUK DRE BUI SA LA WANG GYUR WA JE TSUN LA MA KAL GYAR TSHO ZHEY SÖL
You have dominion over the state of the union, the bhumi of fruition. Noble Lama, I request you to live for hundred eons.
DE TAR SÖL TAB LU MED DEN PAI THÜ GANG GI SANG SUM TSHEN MOI GÖN PO TAR
By praying thus, with the infallible power of truth, your three secrets like the Moon, the protector of the night,
PHEN DEI YOD TONG THRO WAI PAL YON GYIY DAK SOK DED PAI KU MÜD ZHED GYUR CHIK
With its glorious quality emanating a thousand moonbeams of benefit and happiness, may our water lilies of devotion blossom.
Gelong Tshering wrote this upon the request from practitioners when the retreat center at Kyungseng Dargye Gonpa was inaugurated.