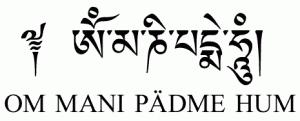 The following is an excerpt from a teaching by Jetsunma Ahkon Lhamo given at Palyul Ling Retreat 2012:
One way that I teach people is online.  I have a Twitter account and many times we just tweet.  Do you know what Twitter is?  Some of you do?  Maybe?  Ok.  So what we do is we teach them Om Mani Pedme Hung, and then show them how the letters look in Tibetan and have them see blessing mantras so that they will, you know, experience liberation through seeing.  They will receive the blessing of that because these people will never ever practice Dharma.  So should we throw them out?  No, of course not.  People like urban people.  People in countries that probably have never even heard of Dharma.  Inner city people.  Outer city people.  People down the bible belt in the middle of the country.  All of them.  All of them hear a little bit of the Dharma and the kindness that it shows and they want to learn.  They want to learn.  So I do the best that I can to teach them online. We make films, and sort of document some small teachings.  Nothing very deep because that would require another kind of opportunity, but we are able to teach them just so that there is a blessing in being human.  So that as human beings there will be some use, that they have the capacity to think and to understand.
Of course I love animals.  We all know that, but animals cannot learn the Dharma.  As much as I would love to see my animals achieve liberation, that will never happen through practicing Dharma.  If I practice and I dedicate, maybe that's something.  If you practice and you dedicate, maybe that's something.  But still they cannot practice.  They don't have that part of the brain that can make them practice, but they can hear mantra and receive the blessing.  We even tell people, "Say this blessing to your animals as they die.  Om Ami Dewa Hri."  Of course you all know that , but that's a revelation to someone who has never heard Dharma before, or to someone who didn't know there was some way that they could help their little dogs and their cats as they die.  And their little birds and so forth.  They didn't know that there was any real way to do that.  So we've told them that if they are coming close to death, if death is coming, at this time you should say in their ears, "Om Ami Dewa Hri."  And we even put up recordings of how it sounds so that they can recite it correctly.   They will get the closest thing possible to a lung.  It's not the same, but it's the best we can do.
I'm not proud.  If anything I'm shy and I'm not proud.  One thing that I feel is if what you can do is a small thing, you should do it.  If all you can do is give a little bit, you should give it.  If all you can do is say, "Well, my dog can't have any blessing," and you give nothing, that's not so good.  But instead, why not do for them what you can do for them?  They can hear the sound of mantra.  They can see the letters.  They don't cognize them.  They can't understand what it means, but they can see it.  They can see images.
I have made an Amitabha recording of singing the mantra so that it can be played for people who are dying or who have just died.,so the Amitabha mantra will be in their ears as they are dying.  These are all the things that I know how to do.  They are very simple, but these are not people who will ever come here.  And their pets—they will never come here.  How can they receive a blessing if we don't reach out and make it possible?
I'm very interested in R&B music and hip hop.  Sorry.  If that disappoints you, I'm really sorry.  But I'm interested in that kind of music.  I'll be honest with you and say that.  And what I've noticed is that when I reach out—I have 65,000 followers, no 68,000 followers—and when they contact me and ask me, "What is the answer to this question?"  You know.  "You said this. Does that mean that or does that mean this?"  And these are people that have never heard of Dharma before, just know nothing about it.  And then they want to know.  And I recommend books for themand that sort of thing.  We send out pictures of stupas, all the stupas that I've built so that they'll have that contact of being able to see. So I'm proud of that.  I'm happy about that.  And I think that even as we get to the higher levels of teachings, we should never ever think that it's inappropriate to lower oneself to do simple goodness for all beings.
Copyright © Jetsunma Ahkon Norbu Lhamo All rights reserved