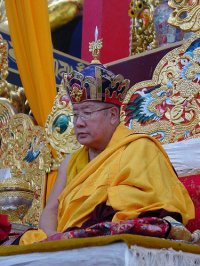 The following is an excerpt from a teaching given by His Holiness Penor Rinpoche at Kunzang Palyul Choling on Bodhicitta:
We start first with the special method that will turn one's mind towards the Dharma.  In that method, we have to understand that wherever we are born in the world, in this universe, there will not be much happiness.  There is hot and cold suffering in the hell realms, and the hungry ghosts have the suffering of hunger and thirst.  The animals have the suffering of killing each other.  The human beings have a short lifespan, and within that short life, there is a lot of suffering.  Even those god beings in the god realms have a very good life there, but because of their carelessness, they are just spending and wasting their lives with happiness.  The sentient beings in this world have their own sufferings.  It is important, the Buddha said, for you to understand that wherever you are born, there is no happiness.  There is suffering.
When you understand that, then in order to remove the suffering, you need to have diligence to remove the suffering, like the diligence you do when your hair is burning, when your dress is burning.  During that time, you will put all your efforts toward removing the fire.  Similarly, once we have understood the suffering of samsara, of the world, then we have to really put some kind of diligence toward removing the suffering of samsara. Then if our hair is on fire and our dress is on fire, then we will not really remain peaceful.  We will definitely do something.  So, similarly, once we understand the suffering nature of samsara, we will not waste our time.