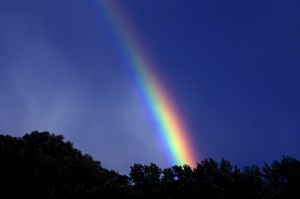 The following is an excerpt from a teaching by Khenchen Tsewang Gyatso given at Kunzang Palyul Choling on Ngondro:
When contemplating the faults of samsara, we need to understand that in samsara, as we explained, there is some enjoyment, some peace, which distracts our minds and keeps us from having any accumulation of merit or purification. It is just like in Christianity: In the beginning, God said there is a very nice apple tree, but you should not get distracted and eat of it. If you do, then you will get spoiled. By not listening to that and eating the apple, all evil and bad things happened. Just like that, in this world there are certain things that really feel attractive, but when you look at the object of attraction and really examine it deeply, there is nothing attractive. It is all just like a magician's creation which looks very real, but when you approach it, then you see that it is artificial with no essence. That is why one has the thoughts of the precious human birth, that death is uncertain, that the law of karma is going to direct you, and that the law of karma is created by yourself. There is no external law of karma ordering you to do all these kinds of things. Each and every experience of good and bad, suffering and happiness, that you experience each and every moment is created by yourself. That is known as the ripening of karma.
So we need to understand the fault of samsara. When one has a clear understanding of these four thoughts, you could have some kind of feeling that you have to do some practice. Samsara looks so attractive, but it doesn't have any essence, like the rainbow. The rainbow looks so colorful, so nice, and you have so much desire and attachment. You really want to have it, but when you jump up to get it, you cannot get anything. Then you feel very sad, and you get so depressed. Why can't I have some of this beautiful rainbow? You get upset, but nothing happens. All these worldly pleasures are exactly like a rainbow. When you really enter into them, there is nothing there to have. That is why one must have a deeper understanding of cyclic existence. Then you can become more relaxed and have more enjoyment, thinking how attractive everything is, but having no attachment to it, no desire. You can enjoy and at the same time not create any negative karma and be more relaxed, because you don't have to try to get anything. Whether you get something or not, you just relax. If you can't get it, you won't feel depressed because you know that it has no essence.
So your mind gets very relaxed, you can enjoy whatever happens without any attachment or afflicted mind. In that way, one can have a very smooth life without any depression or emotional feelings and without any excitement, but still some kind of enjoyment is always there. That is how we can really apply practice into our daily life—just relaxing, no attachment, no hatred or anger, just always relaxed and balanced. Whatever things you have, you enjoy them just like a magician's creation.
At the same time, you do not have any attachment to the practices. No attachment to the Great Perfection ngöndro practice. Attachment binds you; it is a type of bondage. When you feel that kind of excitement, like, "Oh, I want to do this ngöndro practice. This is so great!" with so much expectation and so much interest, then as you apply it into practice, some obstacle arises. Then you feel like you should have gone some other place for the weekend. "I should have gone to see my friends or relatives." When one has so much attachment or expectation, that also becomes an obstacle. So you need to get relaxed, always get relaxed, thinking this is a great opportunity.