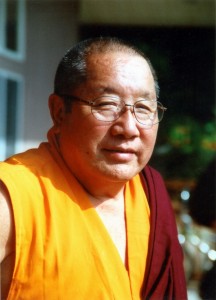 The following is an excerpt from a teaching by His Holiness Penor Rinpoche on Mediation, reprinted with permission from Palyul Ling International:
Many of you are interested and have asked, "Please give us the Dzogchen teachings." But even I myself don't know what is Dzogchen and I don't have anything to teach you!
Anyway, as I explained to you earlier, if one practices the Bodhicitta, that kind of pure intention to really benefit all other sentient beings, and then the samatha meditation practices to establish one's mind in full concentration, then of course there will be the Great Perfection ("Dzogchen") meditations.
But if one cannot cultivate the Bodhicitta within one's mind, the path to Enlightenment is already broken. Without Bodhicitta, there is no real path. Bodhicitta is that which is without any partiality. The pure intention of Bodhicitta, the thought to benefit all sentient beings without any exception, can be understood by realizing that in one or another lifetime, each being has been one's parent. If we understand this and think of how dearly they have taken care of us, then we will feel grateful to all the parently beings and we can generate Bodhicitta to all of them.
This present body of ours is here because of our parents. If we did not have parents, there is no possibility that we could have these bodies. And if we don't have this physical body, then we cannot accomplish any kind of worldly or Dharma activity. So our mothers are indeed very kind and we should be grateful.
Of course, there are many kinds of parent-child relationships in this world, but we should remember that whether or not we are close to our parents is based on our own desires and our own thoughts. Beyond that sort of thing, the main meaning here is that without our parents, we could not have this body, and because of this we should understand and be grateful for their kindness. So first one really concentrates on generating Bodhicitta based on one's gratefulness to this life's mother, and from that one can extend this Bodhicitta to all sentient beings equally.
So the most important points are to have faith and devotion in the Dharma, then meditating and contemplating on Bodhicitta and compassion. Then one can apply these into practice through the meditations on emptiness.
In the Dharma practice one should not think, "Oh, I am doing all this practice for the benefit of this lama or for these Buddhas." Never think in this way. The Dharma practice is for yourself. Each and every one of you as individuals has to liberate yourself from Samsara. You are attaining Enlightenment for yourself. You are attaining Buddhahood for yourself. By your practice, your lama is not going to attain Enlightenment nor is Buddha going to attain Enlightenment! Buddha has already achieved Buddhahood! And if you cannot attend to Dharma practice in the proper way, then it is yourself who will fall down into the three lower realms. It is not the lama or the Buddha who will fall into the lower realms!
So, though it is important to think spiritually of one's own benefit and how one can attain Enlightenment, still the achievement of that kind of liberation is by the path of benefiting all other sentient beings. Without that kind of Bodhicitta one cannot attain complete Enlightenment.
The Bodhicitta we can generate right now, however vast, is beneficial. In the future, when one attains Enlightenment, according to the vastness of that Bodhicitta, that many sentient beings can benefit and liberate themselves from the sufferings of Samsara. Right now we cannot really perceive all that fruition, but if we continue to practice, then in the future we will realize it as a direct perception.