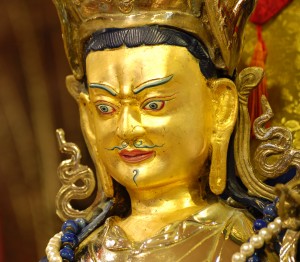 Excerpt from a teaching by Jetsunma Ahkon Lhamo from the Vow of Love series
Now, when we talk about practical compassion, it actually occurs on two levels. There's a universal level, in the sense you care so much for all sentient beings that your goal is to do whatever is necessary to eliminate suffering for them all. But does that mean that if you see a hungry child you shouldn't feed him? Or does that mean you shouldn't be kind in an ordinary, human way? Ordinary compassion, ordinary human kindness is very important. But in understanding the Buddha's teaching, it shouldn't be the only thing you do. You have to live an ordinary, virtuous life, but you have to live an extraordinary life as well. The activity of kindness and compassion should have both a universal and an ordinary level.
On the other hand, I don't believe in 'idiot compassion.'  Have you ever heard of idiot compassion?  It is when you look at people who are needy and you see them going through their stuff, and you try to be so kind to them and give them what they need, or what they say they need. You actually don't help them because you increase their dependency. You increase their willingness to tell you how much they need. You're just helping them along; you're playing with them. So I don't believe in idiot compassion because it doesn't help them. I believe that sometimes, real compassion has to be harsh.
In Buddhism, you see as many wrathful deities as you do peaceful deities. Why is that? Is it because the Buddha is half mean and half nice? I don't think so. It's because sometimes compassionate activity has to be a little wrathful. Sometimes it has to be a little aggressive. It depends. If you really are pure and your determination is to really be of benefit, and not just to be a nice guy, after training yourself in this way, you'll know what to do. You won't get hooked on idiot compassion. Everybody likes 'feel-good' stuff, but that doesn't always help. You should, however, be a human being of virtue. You should be kind. You should be honest.
Copyright © Jetsunma Ahkon Lhamo.  All rights reserved